Estonian tourists kidnapped in Lebanon appeal for help
Seven Estonian tourists, who were kidnapped while cycling in Lebanon over three weeks ago, have appeared in a video begging for help.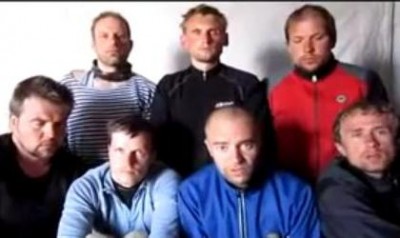 The video, which was posted on YouTube, shows the men pleading with Lebanese, Saudi, Jordanian and French leaders to help secure their release.
The seven men went missing on 23 March when cycling in the Bekaa Valley after entering Lebanon from Syria.
The motive for their abduction remains unclear.
Wearing sports clothes and appearing in front of a white background, the Estonians take it in turns to ask for help.
"This is a really difficult situation. Please do anything," one said.
"It appears from the video that all seven abducted Estonians are alive and well. However it is not known when the clip was recorded," the Estonian Foreign minister, Urmas Paet, said in a statement.
"The message did not include the conditions of the victims' release, any demands, or information on who is behind the abduction," he said.
Hostages
The video appeared on the internet hours after the minister met officials in Lebanon, where he had been told there were no new leads.
It is not clear whether the kidnappings are politically motivated.
A group known as Haraket al-Nahda Wal-Islah (Movement for Renewal and Reform) has claimed responsibility for the incident, but the claim has not been authenticated by security officials.
Eleven Lebanese were charged with the kidnapping last week.
During Lebanon's civil war, at least 88 foreigners were taken hostage between 1984 and 1990, including the journalist John McCarthy and peace envoy Terry Waite.
The Bekaa Valley is known for lawlessness, drug trafficking and feuds between the powerful clans which control the region's hashish plantations.
BBC
This is the link to the video
http://www.youtube.com/watch?v=WIHXHk4c5Gw&feat
The video was removed because its content violated YouTube's Terms of Service.