Kuwait's Nasser Al-Kharafi dies at 67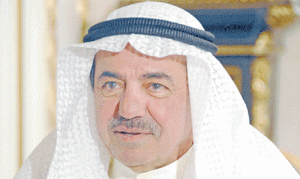 Kuwait's Nasser Al-Kharafi who has a net worth estimated at $10.4 billion, died this past week-end of a heart attack in Cairo. The 67-year-old businessman chairs the Kharafi Group, one of the Middle East's biggest conglomerates and a pillar of the Kuwaiti economy, with stakes in more than a dozen companies. The Kuwait stock market took a small tumble losing close to 1% of its value.
News of his death hit hard telecom company Zain Group, with shares dropping more than 3%. The Kharafi Group, which is the second largest shareholder in Zain, had been trying unsuccessfully for months to sell its stake to the UAE's Etisalat. At one point, it even considered an offer from Saudi Prince Alwaleed Bin Talal Alsaud to buy its Saudi operations, which would have cleared a regulatory hurdle for Etisalat.
The Kharafi Group also owns a stake in National Bank of Kuwait, the country's oldest bank and one of the best managed in the region. Its star advisory board includes billionaires Naguib Sawiris of Egypt, Turkey's Suzan Sabanci Dinçer, and India's Mukesh Ambani, as well as Pimco's Mohamed El-Erian.
Its Americana division operates several fast-food joints throughout the Middle East, including KFC, Hardee's, and Krispy Kreme. (The Group is one of the largest shareholders in the donut chain). During the Egyptian uprising, KFC on Tahrir Square became a makeshift clinic to treat the wounded. Kharafi has extensive investments in Egypt, and had recently purchased three power stations in the country for more than $1 billion.
Nasser Al-Kharafi succeeded his father to the helm of the family business in 1993. Mohamed Abdul Mohsin Al-Kharafi had built the holding group into a regional powerhouse. I'd met him before his death at an investment symposium in Morocco, where he quipped that his investment philosophy was: "I'm not in one pot, not in one place, not in one currency." It's a philosophy that was carried on by Nasser Al-Kharafi. The family hasn't announced yet who will succeed him. His son Marzouk runs Americana; Badr is vice chairman of Kharafi Group, and Faisal is general manager. Nasser Al-Kharafi's brother Jassim, a former finance minister and chairman of the Kuwait Investment Agency, is speaker of the National Assembly. His sister Faiza, a chemist, was president of Kuwait University. Forbes