Syria: Shooting at protesters in Tahrir Square Homs
Shooting was reported last night in the main square of the city of Homs, where thousands of people had gathered in anti-government protests.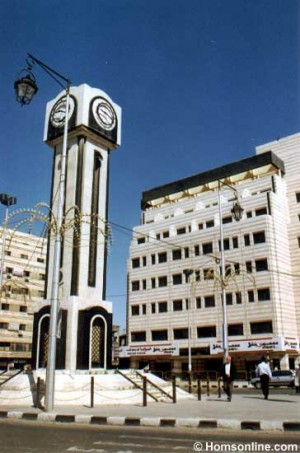 There were no immediate reports of deaths or injuries. A member of the security police addressed the protesters at New Clock Square ( which was renamed today Tahrir Square or Liberation square ) through a loudspeaker, asking them to leave, and then security forces opened fire, a human rights campaigner, who is in contact with protesters in the square, told Reuters.
The latest protest came a day after Syrian security forces reportedly shot dead at least 20 protesters in the city. Sunday's clashes followed the death of a tribal leader who was being held in custody, a human rights campaigner said. "Homs is boiling. Security forces and the regime thugs have been provoking armed tribes for a month now," said the activist, who asked not to be identified for fear of arrest. "Civilians in large numbers also took to the streets … and they were shot at in cold blood."
He said protests against the Ba'ath party's rule intensified in the city after authorities handed over the body of Sheikh Bader Abu Moussa of the Fawa'ra tribe to his family for burial on Saturday.
A 12-year-old was killed at Abu Moussa's funeral and accompanying demonstration on the same day. Abu Moussa was arrested a week earlier before outside a mosque after he took part in one of many protests across Syria against President Bashar al-Assad. "He was a healthy man before they took him and a corpse afterwards. It is known that the security forces have been dealing brutally with the protesters, but this is too much to take," the activist said.