Fatfat: Syrian ambassador should be summoned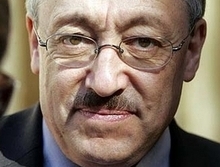 The Foreign Affairs Ministry should summon Syrian Ambassador to Lebanon Ali Abdel Karim Ali "because his comments are a great violation of protocol, " Future bloc MP Ahmad Fatfat told Voice of Lebanon on Monday
"He [Ali] says there is evidence. If it exists, why not show it? Let it be shown immediately," Fatfat said , addressing Syrian allegations that the Future Movement is involved in protests in Syria.
Ali told As-Safir newspaper's Monday edition that "there is evidence bolstering the confessions broadcast by Syrian television, but whether or not this evidence is published, what is wanted is movement from Lebanon to build on the available information."
He made further accusations against Future Movement , saying that the media has unveiled "incitement of unrest and chaos in Syria and the blackmail of Syrian workers and students in Lebanon."
Three suspects testified Wednesday on Syrian state television that they received arms and weapons from abroad to fuel a wave of protests in the country, naming Future bloc MP Jamal Jarrah as a funder.
Jarrah and Future Movement have denied the allegations.
Khoury
The head of the Higher Lebanese Syrian Council, Nasri Khoury, said he would start contacts with the judiciaries and the prosecutions of the two countries to deal with the Syrian accusations against Jarrah.
Khoury told As Safir in remarks published Monday that President Michel Suleiman informed him during their meeting over the weekend to follow-up the issue to "have a clear picture" on the accusations.
Jarrah met on Saturday with Speaker Nabih Berri whose circles confirmed to As Safir that Berri was waiting for the completion of the file on al-Jarrah so that he could call for a meeting of his bureau committee to take the appropriate action on the case.
The circles said that Berri advised Jarrah to "calm down" as long as he is confirming that the Syrian accusations against him are false.
The Syrian accusations against Jarrah have outraged the Future Movement . Yesterday several Future Movement MPs criticized Syria for alleged accusations