nspired by neighbors, technology, Syrians join in revolution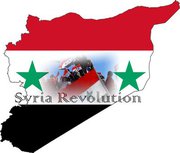 When Samer, a university student in Damascus, joined in the largest anti-government demonstrations so far in the capital Friday, he felt something he had never felt before. It was not fear, though he was afraid in the first few seconds.
"After the first yelling, the first shout, you feel dignity," said Samer, 24, who like many protesters did not want his surname used for fear of reprisals. "You feel that you are a real citizen, a real Syrian citizen."
They are still a minority, but every day more Syrians are stepping out of the house and into the streets, breaking the barrier of silence that has gripped them for decades. Many are young men, propelled as the young often are by adrenaline and bravado.
But in a deeper sense, they are ordinary people who say they feel linked for the first time to a wider world, one in which democracy movements in Tunisia and Egypt led to the departure of autocratic leaders, showing them that such things are possible.
It is a world in which they no longer feel alone. For decades one of the Middle East's most isolated societies, Syria has in recent years allowed its people access to the Internet and satellite television. Now, technology is playing a crucial role in their democracy movement, as Facebook, Twitter, YouTube and Skype help them evade government detection as they communicate with one another and disseminate information.
Being in touch with so many fellow Syrians inside and outside the country has galvanized them in a way that eluded their parents' generation.
"I knew well about the arrests in the past years, but I couldn't go to the streets by myself," said Bahaa, 25, an art student in the city of As Suwayda who joined protests last week for the first time since they started. After seeing YouTube footage of earlier demonstrations, he and his friends decided it was time to do more than just watch from the sidelines. "I was so happy," he said, speaking via Skype like others in Syria interviewed for this story, "because for the first time I was demanding my freedom."
In countries caught up in the Arab Spring, single events have become catalysts for revolution. In Tunisia it was the self-immolation of a distraught fruit-seller, in Egypt the beating death of a young man arrested in an Internet cafe, pictures of whose disfigured corpse went viral. In Syria, it was the arrest and torture of teenagers for writing anti-regime graffiti in the town of Daraa. Each time, the people involved became symbols of a society's pent-up frustration.
"They're like Rosa Parks," said Rami Khouri, director of the Issam Fares Institute for Public Policy and International Affairs at the American University of Beirut. "Individuals who, at moments of rage and anger and refusal to be dehumanized any longer, they stood up. And they spoke for the millions of others."
But for Syrians, whose population includes Sunnis, Shiites, Christians, Kurds and Druze, the thirst for revolution has been slower to take root, in part because of an appreciation for what the regime has given them: security in a region where sectarian violence has plagued their neighbors.
Syria's leaders have exploited fears of sectarian strife, hanging up banners reading "Security and Stability," and now, in the face of protests, warning that greater freedoms will lead to civil strife along the lines of Lebanon or Iraq.
When Bashar al-Assad, 45, became president in 2000 after the death of his father, president Hafez al-Assad, there were hopes that he would usher in political reforms. But he has been criticized by rights groups for continuing his father's repressive tactics and crushing dissent in this country of 22 million.
On Saturday, in response to protests, he promised the end to emergency laws that have for the past five decades allowed the state to arrest people without charge and control dissent. But the announcement came with the caveat that protests would not be tolerated once the laws were lifted, and it was followed by more protests.
Still, Assad has had more support than the Egyptian or Tunisian presidents had "because there has been stability," Khouri said. "If you don't foment revolution, you can live your life."
Watching and waiting
Most Syrians have yet to join the protests, because they support the regime or they fear reprisals if the movement fails — or chaos if it succeeds.
"Syrians are rightfully fearful that this call for peace and freedom is a chimera, a phantom, a mirage," said Joshua Landis, director of the Center for Middle Eastern Studies at the University of Oklahoma. "That's why Syrians have been so slow, that's why it's been gaining momentum, but step by step. Because the middle class, the silent majority, are still sitting on the fence. But the more they see these videos [of crackdowns,] the more it repulses them."
Razan Zaitouneh, a lawyer and human rights activist in Damascus, said it is a matter of time. "They are watching, and waiting, to break this fear wall. Many people are saying 'God bless you,' but they haven't participated yet."
Many Syrians, and experts, say Assad could have prevented the explosion of rage by making democratic concessions early on rather than firing at protesters. More than 200 people have been killed in the demonstrations, according to human rights organizations.
"The bastard started at the end," said a 30-year-old Syrian activist who recently fled to Beirut to escape arrest in Damascus. "He started by shooting at people. So people have nothing more to be afraid of. People got killed, their neighbors got killed, their friends, their family members got killed. What else could happen?"
At the same time, in a country where the government survived in part by isolating people, Assad helped make the uprisings possible by legalizing the Internet and satellite television, Landis said. "He was trying to modernize his country, and to modernize the country meant engaging the world, and that ultimately undermined this isolation," Landis said.
Cyber activism
Such technology allows Rami Nakhla, 28, to spend his days holed up in an east Beirut apartment where he collects accounts from Syrians via Skype and passes them on to international news organizations, which were expelled from Syria early in the uprising. A political science student and journalist who fled Syria in January, he gives protesters tips such as planning escape routes and using a buddy system (he also retweets threats he receives from the Syrian government).
Nakhla sat hunched over a laptop this week with the recently arrived activist, both still in hiding from Syrian security forces who in the past have kidnapped Syrian dissidents on this side of the border.
As the "bloops" of Skype messages punctuated the sparsely furnished room, Nakhla explained to one protester how to upload a video on YouTube and exclaimed over news coming in of women in the streets of one town, demanding the release of their detained male relatives.
"They don't really have experience with cyber activism," said Nakhla, who subsists these days on cigarettes and mate, a highly caffeinated South American tea popular in Syria. "So we're trying to help them, to connect people on the ground."
His friend looked up from his laptop with news: "There's a student protest in front of SANA [the state news agency] in Damascus."
"Really? Wow," Nakhla said. "They were trying to make students not political at all. So people are really surprising us with their awareness."
In another way, though, he is not surprised. The recent crackdowns differ from mass killings in 1982 under Assad's father, he said. "No one knew really what was happening there, and to this day we don't know the numbers. But today, after opening fire, in five minutes we will have it in the news. Today you cannot get away with it."
Even in areas that are rural — and less connected — indignation seems to have trumped fear.
"There is a dramatic change in my village," said a Syrian driver in Beirut who recently visited his village in Ar Raqqah province, where he said residents have been emboldened by recent events. "Before, people would sit in a cafe and they were careful because they would know there were pro-government people listening. But now everyone is talking freely, even though they know they are still listening."
As in Egypt and Tunisia, protesters in Syria insist their movement is secular and grass-roots. "Nobody is leading us, nobody is making us go to the street," said Alaa, 24, an English student in As Suwayda who joined the demonstrations for the first time last week. The authorities "are trying to make it religious. But we are not moved by religion. We are moved by freedom, by our sense of humanity."
Now that he has demonstrated once, he said, he will keep going. "Maybe I will get killed, maybe my brother will get killed," he said. "But we will not stop."