Lebanon president questions WikiLeaks' credibility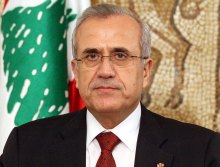 Lebanese President Michel Suleiman warned on Sunday that the published information based on WikiLeaks cables "lacks accuracy and credibility and is mostly based on conclusions and out of context conversations or quotes from a third party."
Suleiman believes that the release of some WikiLeaks cables is part "of an organized campaign that aims to divide parties and deepen divisions between citizens and political parties," according to a statement issued by the presidential press office.
He added that his national stances are based on his own principles that his role is to maintain the country's supreme national interests.
Suleiman also said that his relations with different political figures and parties, including Hezbollah, are good, and are not based on rivalry but on coordination and cooperation.
WikiLeaks has widened the rift between March 14 and the Iranian and Syrian backed March 8 alliance. Hezbollah official in south Lebanon Sheikh Nabil Qaouq said today: "The WikiLeaks scandals have revealed the other camp's lies as it claimed that it supported the Resistance. " This was in reference to the leaked 2006 cables from the US embassy in Beirut