Clinton tells Syria: End violence now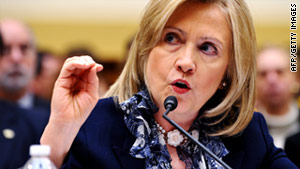 U.S. Secretary of State Hillary Clinton warned Syria to stop using violence against its own people as thousands took part in anti-government protests.
In a CNN report Saturday Clinton said the Syrian government has failed to address the "legitimate demands" of the Syrian people.
"It is time for the Syrian government to stop repressing their citizens and start responding to their aspirations," said Clinton.
Tens of thousands of demonstrators took part in protests Friday across the country, calling for reforms, with some demanding the overthrow of President Bashar al-Assad.
The Daily Telegraph said up to 100,000 people gathered outside the capital, Damascus, and another 20,000 demonstrated in Daraa. At times they battled security forces using batons and tear gas.
Assad has offered some concessions. He formed a new government Thursday and gave amnesty to an undisclosed number of people detained in the last month.
He has also fired some local officials and granted citizenship to thousands of the country's Kurdish minority.
In Yemen, President Ali Abdulla Saleh held a pro-government rally in the capital of Sanaa, denouncing protesters and vowing to stay in office.
Protesters have called for Saleh to step down. He has been in power for 32 years. UPI