Syrian Women Demand Release of Detainees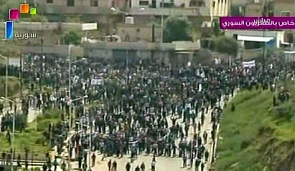 Hundreds of women and children from the Syrian village of Bayda, where large numbers of men were reportedly detained on Tuesday, marched to Syria's main coastal highway on Wednesday, calling for the release of their husbands, fathers and sons, human rights activists told Reuters.
As my colleagues Liam Stack and Katherine Zoepf reported, one activist said that Bayda's male population had been "punished" by the security forces on Tuesday for having supported protests on previous days in the nearby coastal city of Baniyas.
According to a Syrian blogger who writes on Twitter as Razaniyat, this video shows the village's women and children chanting "We want the men of Bayda!" as they marched on Wednesday:
Three hours later, the same blogger wrote that the protesters from Bayda were on the highway between Baniyas and Latakia, another coastal city where a violent crackdown on dissent has been reported in recent days, and "refusing to go home till ALL detainees are released."
An activist from the Syrian Observatory for Human Rights also told Reuters: "The women of Bayda are on the highway. They want their men back."
These YouTube clips appear to show the women and children, waving olive branches and chanting as they blocked the coastal highway.
According to the Syrian Observatory for Human Rights, women also protested on Wednesday in Baniyas.
These two clips, posted on the Youth.Syria.Freedom Facebook page on Wednesday, also show a demonstration by women and children on a highway, but they were described by the bloggers who uploaded them as video of protesters from Baniyas. Since the village of Bayda is just outside the city of Baniyas, though, and the unrest in the two places is linked, it is not clear if these clips show the marchers from Bayda or a separate group from Baniyas.
The second clip appears to show boys and young men staging a sit-in on the road as a tank moved in.
Mohammad Al Abdallah, a Syrian activist based in Washington, posted links to video of what looks like a different group of female protesters in Baniyas on his Twitter feed.
In this clip, which begins with women chanting, "Peaceful! Peaceful!" Mr. Abdallah said that a woman explained to the camera that her 14-year-old son had been shot and killed during the crackdown in Baniyas:
Protests were also reported on Wednesday in Syria's largest city, Aleppo, in the north of the country. A Syrian student in Aleppo who writes on Twitter as Seleucid posted a link to this video of a demonstration at the city's university as "proof."
This clip, also said to show protesters at the university in Aleppo on Wednesday, was posted on YouTube by Syrian activists:
According to the opposition activist who uploaded it, this video was filmed at Aleppo's law school on Wednesday, as protesters were dragged off by people the activist described as "thugs" loyal to President Bashar al-Assad:
By ROBERT MACKEY