Anger in Iran as natural gas prices increase 10 fold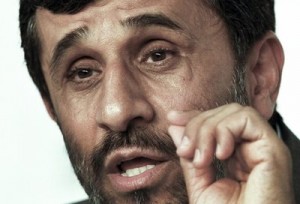 Iran's parliament has warned President Mahmoud Ahmadinejad that resentment is building over sharp increases in the price of natural gas, which has risen at least 10-fold on average in recent weeks, and that public protests could follow.
Official media have reported on crowds complaining in the offices of the National Iranian Gas Co. since a two-week national holiday ended April 4. In Tehran, many people are refusing to pay their bills.
"I will not pay. I cannot pay," said Hossein Solati, who lives with his wife and three children on the outskirts of south Tehran. "This is beyond my means." In addition to steeper costs for home-heating and cooking gas, Solati said, the price of fuel for his truck has also soared since the start of the year.
The price increases follow the implementation in December of a plan by the Ahmadinejad government to cut off state subsidies, forcing the prices of many staples, including gas, electricity and bread, to rise to market level.
Officials had sought to protect the poorest from steep gas-price increases by gradually increasing rates as the number of cubic meters used goes up, as well as offering regular cash handouts. But in Tehran, even some people in poor neighborhoods are reporting a jump in their latest bi-monthly bill from $20 to about $140.
The price hikes are potentially dangerous for the government, according to analysts, who say they could revitalize the grass-roots opposition movement that organized dozens of streets protests after Ahmadinejad's disputed reelection in 2009. The most recent protests, in January and February, appeared to shock some Iranian leaders, who had publicly announced that the movement was a spent force. The uprisings in Tunisia and Egypt this year have been attributed in part to high food prices.
Iran's parliament, which faces elections next year, is now demanding that prices be lowered. "The people don't have the ability to pay their utility bills, and the distributed cash subsidy is not enough," Hamid Reza Katouzian, head of parliament's Energy Commission, told the Shargh newspaper Saturday.
On Monday, a government economic spokesman responded that people could pay their bills in installments and that gas prices would automatically decline when warmer weather sets in. A spokesman for the gas company told the semi-official Mehr News Agency that 70 percent of customers had paid their bills.
"We are studying the complaints," he added.
Dozens of people gathered Monday at the company's branch office in Tehran's affluent Sharak-e Gharb district, where they took turns complaining to a haggard-looking official sitting behind a wooden desk. A woman wearing a Versace head scarf said her bill had increased 16-fold. "I can afford to pay," she said. "But why should we pay this much when our country is one of the largest gas exporters in the world?"
The official raised his hands in a gesture of despair. "I haven't even paid myself," he told her. "I don't know what to answer you."
Several governments before Ahmadinejad's had debated amending the bloated state subsidy system but had held off, fearing it would prove politically suicidal in a nation where dirt-cheap utilities have long been considered a birthright.
Ahmadinejad's move, which followed similar subsidy cuts in other emerging countries, was hailed by Iran's supreme leader, Ayatollah Ali Khamenei, who complained in a recent speech that resources had been wasted in the past and called for "even greater leaps" in Iran's economic growth.
Amir Mohebbian, an analyst who generally supports Ahmadinejad's government but is critical of some steps it has taken, said he expects that the government will come up with relief measures if public pressure becomes too great but that prices will still end up far above the old levels.
"Be sure that the government has its social feelers out," Mohebbian said. "Basically, they threaten us with death so that we are happy with a fever." WP