Iran plans to slash four zeros from its national currency in "one to two years", seeking parity between its rial and the US dollar, Central Bank Governor Mahmoud Bahmani has said.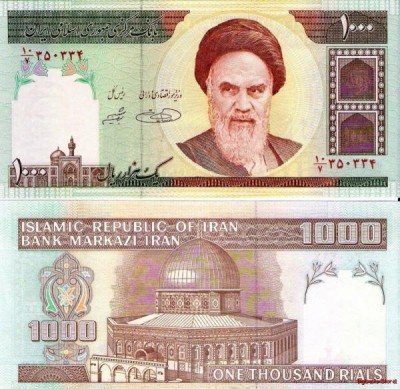 "The new rial (…) will be equal in value to one (US) dollar," the official IRNA news agency quoted Bahmani as saying late Sunday. He added the plan would take "one to two years" to be implemented.
The Iranian rial has dropped drastically since the Islamic revolution, from 70 to the dollar in 1979, to around 11,000 today.
The official inflation rate, which has been slowly falling in recent months, stood at 12.4 percent for the previous Iranian calendar year which ended on March 20.
The Central Bank has been regularly injecting considerable amounts of hard currency in the market in recent months to maintain the dollar value at around 11,000 rials. Zawya
Photo : 1000 Rial Iranian banknote. 11 of these are now equal to one US dollar while in 1979 one of these banknotes was equal to more than 14 Dollars