Hezbollah chief defends Berri, Iran and attacks March 14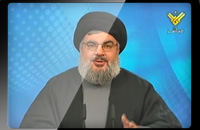 Hezbollah chief Sayyed Hassan Nasrallah appeared again today on TV via video link to talk about the Lebanese situation , Iran and the Ivory Coast.
In his speech he defended Speaker Nabih Berri Berri's role during the 2006 war with Israel , and tried to justify the positions of Free patriotic Movement and MP Walid Jumblatt .
He also came out strongly in support of Iran and defended its role in Lebanon after the 2006 war and slammed caretaker PM Saad Hariri for attacking Iran. He completely avoided the subject of the protests in Syria against the Syrian regime.
WikiLeaks
In addressing the issue of the Wikileaks he defended Amal Movement leader , Speaker Nabih Berri, tried to cover up for Free Patriotic Movement and MP Walid Jumblatt but attacked March 14 alliance .
" Al-Akhbar newspaper has published a series of cables, some of which were sent by US envoys [to Lebanon] and officials.
– We can categorize them based on statements made by officials [and] the judgment of the US officials regarding their meetings with [Lebanese figures].
– The first group of these documents dealt with meetings with March 8 figures, while the second group involved meetings conducted with March 14 figures.
– Regarding the first group, which regards the meetings between US officials and March 8 figures, there have been attempts to provoke divisions between March 8 parties by exploiting [the WikiLeaks documents].
– Regarding the meetings [between US officials] and Amal Movement figures [during the 2006 July War]: There are issues about the war [of which] I would like to remind [everyone]. From the first day of war, until its end, I would say that Speaker Nabih Berri was a partner in ending this war. We had the same concerns and were coordinating [our efforts in 2006]. [Berri] worked day and night to protect Lebanon and achieve the victory of the Resistance [over Israel].
– From the first day of war, we agreed on distributing the responsibilities; I was handling the field [operations] and [Berri] was handling negotiations.
– The interpretations of [then-US Ambassador to Lebanon Jeffrey] Feltman cannot [harm Berri's] credibility.
– The Amal Movement [headed by Berri] was a partner [during the July War]. We saw nothing but cooperation from Amal and we would not have triumphed if it were not for [them].
– Those who are targeting [Hezbollah] have always [aimed to drive a wedge between Hezbollah and Amal].
– I tell those who want to divide Amal and Hezbollah to give up [their attempts].
– Regarding the Free Patriotic Movement (FPM) issues that were mentioned [in WikiLeaks], it was a minor issue. The FPM base [and position] is known, and I do not think that [these issues] will affect the FPM's relations [with Hezbollah].
– About [the WikiLeaks] involving [Progressive Socialist Party leader] MP Walid Jumblatt; He had already declared that all comments he made in the past were [due to his former alliance with March 14] and were part of a phase [before Jumblatt re-aligned with March 8].
– I would like to say that Al-Akhbar newspaper does not follow Hezbollah. [It is] a part of [the March 8 coalition] but has its own management.
– We encouraged the paper to publish the WikiLeaks cables, but we did not help them do it.
– We were not aware what would be published [by the daily]."
He went on to talk about march 14 and WikiLeaks
" The second issue regarding WikiLeaks, is about the meetings of [March 14] figures with [US officials]. In general there is one [predominant topic] of all such conversations. I do not want to discuss in detail what every figure has said.
– We notice that the March 14 coalition, from the start of 2005 until today, basically wants to isolate the Resistance, harm it and put an end to it.
– Why do they want [an end to Hezbollah]? Because there was a deal made between March 14 figures and the United States.
– They can deny it. Let them do so and I [will] take back what I am saying now.
– There is a deal between the US and March 14: [Washington] told them to [terminate] the Resistance and [in exchange] they will be granted the rule.
– What was Hezbollah's crime? Did Hezbollah want to take the rule from March 14 in 2005? Hezbollah's crime is that it is a thorn in the eye of the Zionists.
– Does this mentality protect Lebanon? Is [this mentality] competent to design a national defense strategy and preserve national unity? Can this mentality, with this level of plotting and hatred, build a modern and capable Lebanese state?
– Today, the Resistance remains and [March 14 figures] are no longer in the government. No one will be able to harm the Resistance.
– I call on [March 14] to review their stance and to [beware of taking this mistake too far].
– I would like to tell [March 14] that this mentality will not take you anywhere.
– This is not how the country is run and how its future is guaranteed.
– In Lebanon, no one [party] has the advantage to [annul] another."
Ivory Coast
He then addressed the the situation in Cote D'Ivoire ( Ivory Coast) by blaming the cabinet of caretaker PM Saad Hariri for not taking action back in 2010 :
"We are facing a national and humanitarian problem concerning the Lebanese people residing in Abidjan.
– The cabinet [before it collapsed] should have addressed ways to contain any possible problem in Cote D'Ivoire since the conflict in the country began [in 2010].
– Instead of collaborating to resolve the situation, [outgoing PM Saad Hariri's] camp started firing at the parties who are finding solutions to the crisis, namely the Foreign Affairs Ministry [headed by minister Ali Shami, who represents Berri].
– The Lebanese people [in Abidjan] are calling on their state to support them in confronting the distress they are going through."
Addressing the situation of the Lebanese expatriates in Ivory Coast (Côte d'Ivoire) Hariri said on Thursday:
"We have been exerting efforts, together with Lebanon's friends, to rescue our people in Ivory Coast from the consequences of the foolish political decisions taken without the State's consent."
This was in reference to the meddling in the internal affairs of Ivory Coast by the Lebanese ambassador Ali Ajami, who is closely associated with Hezbollah
The Lebanese expatriate in Côte d'Ivoire reportedly came under threat after Lebanon's ambassador meddled in the internal affairs of the country by attending the swearing-in ceremony of Laurent Gbagbo, the controversial strongman who has refused to step down despite rival Alassane Ouattara being internationally recognized as having won the country's elections.
Iran
Addressing Hariri remarks about Iran , Nasrallah said :
"I would like to address PM [Saad] Hariri's comments on Iranian policy in the region. We are proud that we are allied with Iran and Syria. We have nothing to hide. And when a state that has stood with Lebanon is harmed, we cannot remain silent.
– We cannot remain silent, especially when a premier makes comments [against] Iran and makes it out to be the root of [all] problems in Arab world, [instead of implicating] Israel.
– If it were not for Iran's support [of Lebanon] following the 2006 July War, a lot of houses would not have been rebuilt.
– This is not how Iran [should be] treated. [Even] if [someone] is upset with us because we collapsed his government, [he] should leave the Iranians alone.
– The problem is that [March 14 demands that others observe] certain ethics and mottos…They should be the ones who commit to them first.
– March 14 [says] that Hezbollah should not drag Lebanon into the policy of regional axes… Why don't they [take their own advice]?
– Hariri should be the first one to take Lebanon out of the policy of axes."
Yesterday Hariri said said in response to the criticism by Iran's foreign ministry
"Iran should stop interfering in the affairs of the Arab states and sowing discord among their peoples. It should also respect the principles of good neighborliness".
Iranian Foreign Ministry spokesman Ramin Mehmanparast responded to Hariri's earlier attacks by saying: "Hariri's position on Iran is deceptive", adding that" it is not in Lebanon's interest and threatens stability of the region".
Hezbollah and its Iranian backers came under attack by Hariri during the past couple of days
Hariri on Thursday slammed what he called Iran's "flagrant intervention" in Lebanese and Arab affairs, saying his country will not be an Iranian protectorate.
Hariri accused Iran of meddling in Lebanon, Bahrain and Kuwait and added this is "not acceptable anymore."
On Wednesday Hariri slammed Hezbollah and its arms :
"Our project is to end the mandate of illegitimate arms, including Hezbollah's weapons, in the political life in the country ."
Hariri added that " non-state arms are aimed at bullying the State."
" It is unacceptable to violate the constitution and threaten the Lebanese under the pretext of resistance." Hariri stressed
Bahrain
Nasrallah then addressed the issue of Bahrain Lebanese relations
I will address the expulsion of some Lebanese from Bahrain. There have been so many insults against Syria since 2005 from Lebanon. [But] we did not see Syria expel any Lebanese person [like Bahrain did in the past month].
– I call on the Bahraini government to [retract] these policies [regarding the expulsion of Lebanese people] because they are wrong.
– It is wrong to pressure Lebanese citizens in Bahrain, [especially since] these people have nothing to do with our political stances."
Addressing the relations between Lebanon and Bahrain , Hariri said last Thursday :
"We're working together with our brothers in the Gulf, especially with our Bahraini brothers, to end the repercussions of the irresponsible and unjustified political alignment which has nothing to do with Lebanese patriotism or Arab nationalism. It's rather part of the Iranian plot which I have described as an attempt to dominate Lebanon and the Arab region."
This was a possible reference to the travel ban imposed by Bahrain against travel to Lebanon when Hezbollah openly sided with the protesters against the government . Bahrain branded Hezbollah a "terrorist organization".
MTV reported on Thursday that the Bahraini authorities have ordered many Lebanese to leave Bahraini territory within 48 hours.
Bahrain interior minister Sheikh Rashed bin Abdullah al-Khalifa linked Hezbollah to the protests during his address to the parliament on March 29
He accused the predominantly Shiite protesters of being linked to" the Iranian-backed Hezbollah, "as proven by the demonstrators' methods as well as statements of support from the Lebanese Shiite group and Tehran."
"All this reveals a link and the training style of Hezbollah," the interior minister said.
Kuwaiti newspaper As-Seyyasah reported last month that the Gulf Cooperation Council (GCC) states are heading toward "making a collective decision to expel all Lebanese Shiites who are connected to Hezbollah and the Iranian Revolutionary Guard."
" These states received proven reports from Bahraini, French, and US intelligence that Hezbollah and the Iranian Revolutionary Guard members are, along with local religious figures, leading the protests in Bahrain and eastern Saudi Arabia," the daily quoted an anonymous Arab diplomat as saying.
Roumieh prison riots
Addressing the the situation in the Roumieh Prison Nasrallah said ;
When you place more people in compounds [than the structures are designed to hold], the people will not be able to take it. March 14 figures [exploited] the [recent violence] in Roumieh and accused Hezbollah of instigating the clashes for political gain. This is not fair, how can a country be built on such bases?
– I call for the resolution of the issue regarding Roumieh Prison's inmates, because it is a humanitarian matter, not a political or sectarian one.
There were many reports that linked the relatives of the prison inmates to Hezbollah. They likened their method of violent protests ( in the areas that are dominated by Hezbollah such as Beqaa and southern Beirut ) to those used by Hezbollah between 2006 and 2008 .
Mikati's cabinet
Addressing the issue of government formation he said:
I would like to address is the formation of a new cabinet [headed by Prime Minister-designate Najib Mikati].
– [After the collapse of Hariri's cabinet], there was a majority [March 8] that nominated [Mikati]. There were attempts to make it look like the Shia [Hezbollah] were behind naming a Sunni PM [Mikati].
– They also attempted to incite [discord] by saying that I [was the one who chose Mikati] for premiership. Those statements are unfortunate.
– I am proud to say that I am hiding because the Israelis are eyeing me and want to kill me.
– There are resisting forces who have embarrassed some Arab leaders.
– It is a shame that the Future Movement or March 14 [claim] that [Hezbollah is behind the selection of Mikati and is engineering the new cabinet].
I do not think that [March 14's] provocation will succeed. Those who provoke are losers. [March 14's] conduct in 2005 was based on provoking other [parties].
– It is normal for [the cabinet formation process] to take time.
– We are not the ones who are forming the cabinet. Everyone is keen on forming the cabinet, but [the final say] is up to the PM-designate.
– A quasi final solution [exists] for the formation of the cabinet.
– We want the cabinet to be formed as quickly as possible.
– Parliamentary blocs have the right to demand [certain] cabinet shares.
– In any case I want to reassure the Lebanese people that all talk saying that some [March 8] parties want to obstruct the cabinet formation is unfounded.
– The people should be patient. We are working to form a cabinet that will be able to protect the country.
– We are determined to confront all obstacles and form the Mikati cabinet soon.
– I want to say that we do not have two nationalities. We were born [in Lebanon], here we stay and here we die, and we will not leave [this country].
– We resisted war [with Israel] because this is what we are meant to do.
Now Lebanon