Israeli air strikes and shelling killed nine Palestinians in the Gaza Strip Friday, with no end in sight to an Israeli operation against Hamas Islamists in retaliation for a rocket attack on an Israeli school bus.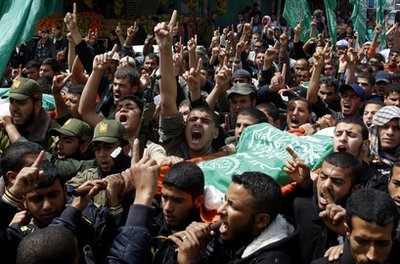 Israel has said it will teach Hamas a lesson for using an anti-tank missile to attack the school bus just across the border Thursday. A teen-ager and a driver were injured in the attack, for which Hamas claimed responsibility.
At sundown, Israeli drones were still flying over the enclave and ambulances were racing through Gaza City to the main hospital. Reuters television footage showed a bloody scene near a cemetery with dismembered bodies and a severed head.
Israeli air strikes during the day killed three Hamas militants and three Palestinian civilians, on the second day of the upsurge in the conflict.
Hospital sources said a Hamas commander died of severe wounds, another man was killed by shelling and an 11-year-old was fatally hit.
At least 32 Palestinians have been killed since the latest spasm of violence erupted on March 20, with 14 killed in the past two days by Israeli action.
The Israeli armed forces said Friday they "identified two terrorist squads from Hamas" and hit the militants from the ground and air. A later strike near the coast killed a third militant and wounded another, Gaza medical sources said.
Hamas said a local commander was also badly injured, and it responded by firing six rockets at Israel from the south.
An elderly Palestinian and two women died earlier when their house in Khan Younis was hit and three other women were wounded, according to hospital sources.
An Israel Defense Forces (IDF) statement said "uninvolved civilians have apparently been injured" in one strike.
"The IDF regrets that the Hamas terrorist organization chooses to operate from within its civilian population, using it as a 'human shield'," the statement said.
NOT OVER YET
At least 15 rockets had been fired into Israel since dawn, causing damage but no injuries, said a police spokesman. Police were restricting traffic near the border area and there appeared to be no early end in sight to operations.
"We are in the middle of an event," General Tal Russo, head of Israeli forces southern command, told reporters. "We are considering all actions, and we are in the midst of it."
Hamas had been hit hard, he said, but it was not over yet.
"We are considering everything. We are looking short term, long term. There are many tools in the box."
Two years of low-level skirmishing on the border escalated suddenly last month when Hamas, which rules Gaza, fired a barrage of rockets at Israel, triggering a surge of fighting in which 18 Palestinians were killed.
Political analysts in Gaza said Hamas wanted to bolster its claim to leadership of the divided Palestinian national movement and divert attention from popular demands — fueled by the "Arab Spring" — for an end to the split with its Fatah rivals.
That spurt of violence subsided but fighting flared again on Thursday when Hamas gunmen fired an anti-tank missile at an Israeli school bus, wounding two. Israel retaliated with planes and armor, killing five Palestinians.
An Israeli analyst said Hamas was plainly smarting from recent setbacks, including an April 2 Israel air strike which killed three Gazans, and which it vowed to avenge.
"The attack yesterday on a children's bus is crossing a line," Prime Minister Benjamin Netanyahu said in Prague.
"The Israeli army responded immediately during the night and will continue to act with determination. Whoever tries to attack and murder children puts his life on the line," he said.
The United Nations and European Union called on the sides to show restraint and end the latest round of fighting.