Familes of Roumieh inmates blocking more Lebanon roads
The families of inmates in the Baalbek area blocked roads in the Sharawneh neighborhood and the Shaat intersection.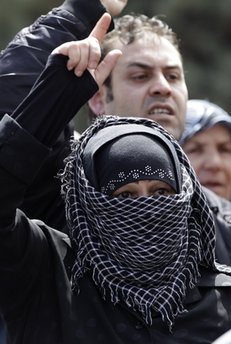 There are conflicting reports about the status of the hostages taken by the Roumieh prison inmates.
Earlier today Future TV reported that the inmates at Roumieh prison were holding two security guards and three workers as hostages and the police commandos were trying to free them.
LBC reported later that the security forces freed the hostages and are working on restoring calm in bloc D, but a subsequent report by VOL said " No official confirmation over the freeing of the hostages
The families of Roumieh prison inmates who have been protesting in support of the inmates also blocked earlier today the road in front of the prison with burning tires.
Update: National News Agency reported that the Lebanese army and police commandos managed to peacefully free the hostages taken hostage by inmates in the Roumieh prison.