Gaddafi forces using civilians as human shields, says France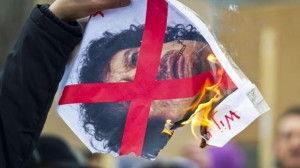 Muammar Gaddafi's forces are using civilians as human shields to foil Nato air strikes, France said after rebels accused the western-led coalition of standing by while government troops continue their assault on Misrata.
The French foreign minister, Alain Juppé, conceded that the position of rebel-held city – under daily shelling and sniper fire from the army – was intolerable but said there was little more which could be done immediately.
"We've formally requested that there be no collateral damage for the civilian population," he told France Info radio. "That obviously makes operations more difficult."
The head of France's armed forces gave a similar response to complaints from rebels that the pace of air strikes has abated since Nato took over control of Libyan operations from the US, France and UK on 31 March.
"I would like things to go faster, but as you are well aware, protecting civilians means not firing anywhere near them," Admiral Edouard Guillaud told Europe 1 radio. "That is precisely the difficulty."
He said Nato was concentrating operations on Misrata, where rebels hold the port zone, while also trying to prevent the transit of new weapons to Gaddafi's power base in Tripoli.
The comments follow a scathing reprimand for the alliance by General Abdel Fatah Younis, leader of the ramshackle rebel forces. He said: "Nato blesses us every now and then with a bombardment here and there, and is letting the people of Misrata die every day. Nato has disappointed us."
Younis, formerly Gaddafi's interior minister, said there had been a marked slackening of operations since Nato took over: "The reaction of Nato is very slow. One official calls another and then from the official to the head of Nato and from the head of Nato to the field commander. This takes eight hours."
He disputed Nato's reasoning for limiting air strikes on Misrata: "Nato says Gaddafi's forces are hiding among civilians. But we tell them that there are no civilians left in the areas where the Gaddafi forces are positioned. We urge them to destroy civilian property to take out the snipers and armed gangs."
Following an initially rapid to-and-fro which saw the rebels swiftly advance before being pushed right back, the battle for control of the country has become bogged down in a near stalemate between Tripoli and the rebels' base in the eastern city of Benghazi, one maintained by Nato's enforcement of a no-fly zone and attacks on Gaddafi's forces.
The latest fighting, according to rebels, saw resupplied government forces push eastwards out of the oil port of Brega.
Pick-up trucks loaded with machine guns and rocket launchers headed west from Ajdabiyah while several families fleeing the fighting in cars loaded with their belongings passed them in the opposite direction.
Hossam Ahmed, a defector from Gaddafi's army, said the frontline was 40-60km (25-37 miles) west of Ajdabiyah, saying the retreat "wasn't a full withdrawal", it's back and forth.
Ajdabiyah, gateway to Benghazi, is about 80km east of Brega.
Like other rebels at Ajdabiyah's western gate, Ahmed expressed frustration at the lack of Nato action. "There have been no air strikes. We hear the sound but they don't bomb anything," he told Reuters.
Another rebel, Khaled al-Obeidi said: "What has Nato done, what has Nato bombed?"
Thus far, air strikes have removed almost a third of Gaddafi's military capacity, Brigadier General Mark van Uhm, a senior Nato staff officer, said in Brussels. He also said that remaining government forces were often hiding in populated areas: "When human beings are used as shields we don't engage."
Amid the stalemate there has been increasing focus on diplomatic efforts, such as encouraging key Gaddafi loyalists to defect.
Gaddafi is seemingly attempting to play the same game. Libya's official Jana news agency said that he had sent a message to Obama "following the withdrawal of America from the crusader colonial alliance against Libya". The US played a key role in early air strikes before Nato took over. Guardian