The CEO of energy company Eni recently visited the rebel-held eastern Libyan town of Benghazi with the aim of resuming oil ties with the North African country, the Italian foreign minister said Monday.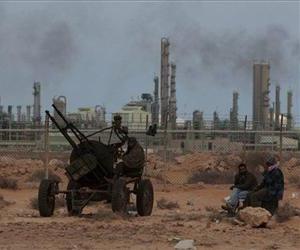 Minister Franco Frattini told reporters that Eni chief Paolo Scaroni was in Benghazi on Saturday, where he "had contacts with the Libyan National Transitional Council to restart cooperation in the energy sector and get going again the collaboration with Italy in the oil sector."
Frattini had just held talks in Rome with the council's foreign envoy, Ali al-Essawi.
Al-Essawi told reporters in a joint news conference after the talks that the opposition would honor "all legitimate rights" of foreign individuals or companies in Libya. As for future policies, that will be up to "the Libyan people to decide" once democratic elections are held, al-Essawi said.
Italy recognized the Libyan opposition council on Monday as the country's sole legitimate voice.
Before Libya's violent upheaval largely shut down or drastically reduced oil and gas production, Eni was the biggest gas exporter from Libya, as well as its largest oil producer.
Major European energy company Repsol also has extensive operations in Libya. But unlike Eni, whose oil operations are in the east of Libya, Spanish outfit Repsol is based in the country's west and southwest, territory controlled by forces loyal to Libyan ruler Moammar Gadhafi.ABC