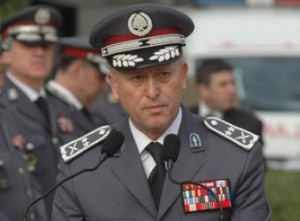 Internal Security Forces( ISF) General Ashraf chief Rifi announced on Sunday at 3:30 pm the end of the riots at the Roumieh Prison . His announcement came after the release of the last security guard following intense negotiations between the Security Forces and the inmates
Earlier today Rifi commented on the prison riots during a press conference :
"We are capable of settling the dispute with force in cooperation with the army, but we don't want to go down that path." He said
He said the conditions inside the prisons need to addressed . He added "we know what the problem is and the prisoners know it too and know that we are aware of their problems. The solution should be strategic…. LL 19 billion have been allocated to build prisons in the North, South, and Bekaa."
Also earlier today Rifi said in an interview with OTV:"The security forces are eager to settle the Roumieh dispute through negotiations and we won't resort to force unless they do. The security forces won't wait for long and it will use force to end the mutiny."
The families of some Roumieh Prison inmates also protested today in support of the demands of Roumieh prison inmates…they blocked roads in the Bekaa town of Brittal and Beirut airport road , set many tires on fire and demanded pardon for the inmates
The security forces moved in to control the situation , according to some reports
This error message is only visible to WordPress admins
Error: No connected account.
Please go to the Instagram Feed settings page to connect an account.