Baalbeck residents protest in support of Roumieh prison inmates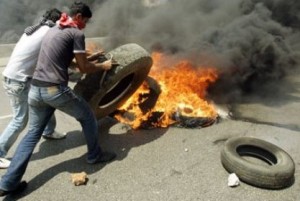 Several residents of the Sharawneh neighborhood of Baalbeck protested in support of the demands of Roumieh prison inmates.
The protesters blocked the western entrance of the city of Baalbeck , set many tires on fire and demanded pardon for the inmates.
the protesters also closed the international road that leads to the Syrian city of Homs.
Also the residents of Brittal east of Baalbeck rioted in support of the prison inmates
The prison inmates rioted today , set one of the prison buildings on fire and took in several guards as hostages .
The inmates are reportedly asking for a revised pardoning law, Reduction of sentences, in addition to improving living conditions inside the prison
According to local media reports many of the inmates are criminals engaged in drug trafficking, money laundering and smuggling. Since most of the smuggling and drug trafficking takes place in the Baalbeck region near the borders with Syria, many of the prison inmates are reportedly from Baalbeck area, a Hezbollah stronghold east of the capital Beirut