Rai, Sfeir at Baabda palace with Lebanese president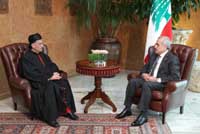 Lebanon's newly-elected Maronite Patriarch Beshara Boutros al-Rai had a closed door meeting at the Baabda palace with President Michel Suleiman . After the meeting the president invited hosted a lunch in his honor
Rai was accompanied by retired former Patriarch Nasrallah Boutros Sfeir during his visit to Baabda palace
During a meeting with a visiting delegation earlier today Rai stressed on the importance of cooperating to face the challenges of the church in countries where there are Lebanese expatriates.
Rai, 71, was elected last Tuesday as the 77th patriarch of Lebanon's Maronites, the country's largest Christian community which makes up about one third of the four-million population.
He succeeds Nasrallah Boutros Sfeir, who resigned recently due to his age after serving for 25 years as Patriarch of Antioch for the Maronites.