Lebanon FM:160 Lebanese expatriates evacuated from Ivory Coast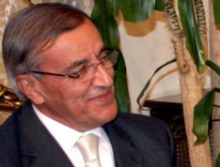 Resigned caretaker Foreign minister Ali Shami said that the Lebanese expatriates in Ivory Coast are oK. He added that the Lebanese government is ready to evacuate any Lebanese expatriate at its own expense .
In an interview with NBN , he said 160 expatriates so far have been evacuated to a safe location with the help of the French government
The strife-torn West African nation of Ivory Coast (Côte d'Ivoire) was once a beacon of prosperity for the region. But since a 2002 civil war, the country has been divided between north and south and wracked by years of political confrontation, coups and countercoups, and street violence.
It was hoped that an oft-postponed presidential election in November 2010, the first in 10 years, would be a force for peace and unity. Instead, it led to a new crisis, as the incumbent president, Laurent Gbagbo, refused to step down despite declarations by the United Nations, the African Union, the United States and the European Union that he had been defeated by Alassane Ouattara, a former prime minister, banker and leader of the opposition.
The country's top elections officer proclaimed Mr. Ouattara the winner of the election, by a nearly nine-point margin. Only a day later, the head of the Constitutional Council, who is a close ally of the president, threw out vote totals from parts of the north — the stronghold of Mr. Ouattara — because of what he called "flagrant irregularities," leading both men to claim the presidency. NYT, Ya Libnan
Update:
Shami told New TV Friday evening : The Lebanese in Abidjan are suffering for looting and acts of sabotage and we call on every Lebanese not to meddle in the affairs of any host country.
He also told LBC: The Lebanese in Abidjan are facing a dire situation as food supplies have started to run dry. Threats to rob their houses have not stopped and one of them was shot today in the shoulder.