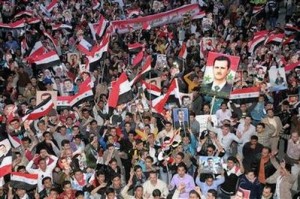 Supporters of Syrian President Bashar al-Assad staged rallies across the country to shore up a leader facing the strongest challenge since he came to power 11 years ago.
State-run television showed live footage of hundreds of thousands pouring onto the main streets of Damascus, Aleppo, Hama and al-Hassakah today.
The pro-regime marches are a response to protests in several Syrian cities and towns since mid-March to demand political reforms, including an end to a 48-year-old emergency law. More than 90 people were killed as the government cracked down on dissent, according to unconfirmed reports cited by Amnesty International.
Syria is the latest country in the region to be hit by the wave of uprisings that ousted longtime rulers in Egypt and Tunisia, and sparked armed conflict in Libya. Assad's regime is an ally of Iran and a power broker in neighboring Lebanon, where it supports the Shiite Muslim Hezbollah movement.
"The rallies today were organized by non-governmental organizations that support President Assad and the government," George Jabbour a member of parliament said in a telephone interview from Damascus today.
The government of Syrian Prime Minister Muhammad Naji Otri may resign today, to be replaced by a new cabinet that Assad will appoint within 24 hours, Agence France-Presse said, citing an unidentified Syrian official. Bouthaina Shaaban, a senior adviser to Assad, was not available when contacted at her office today.
Assad Speech
Assad is expected to give a speech within two days, the Syrian Arab News Agency reported, citing Vice President Farouk al-Shara who spoke yesterday. Jabbour said the president is likely to announce a number of measures, including the lifting of emergency law, that would "assure the Syrian people."
Unconfirmed reports say 37 people were killed in Damascus, the capital, and other towns including Latakia, Daraa and Homs since March 25, Amnesty International said on its website yesterday. In the Daraa governorate, which is in the south-west of the country near the border with Jordan, at least 55 people died last week, according to credible sources, Amnesty said.
Violence in Daraa and Latakia has "come to a halt completely," Jabbour said. "Calm has set in in the areas and measures are being taken to address the demands of protesters in Daraa. However, events in Latakia were a result of gangsters which targeted the security of Syria."
Government Crackdown
Human Rights Watch and Amnesty International have condemned the crackdown. Unrest began in the southern province of Daraa earlier this month. Video footage on the Internet broadcast by the Al Jazeera and Al Arabiya news networks showed hundreds of protesters in cities such as Homs and Daraa, some tearing down poster of Assad.
After the protests began in mid-March, Assad ordered the release of more than 200 prisoners, measures to combat corruption and a new media law to guarantee more freedom.
The Syrian president also ordered pay increases of as much as 30 percent for state employees and an income-tax cut and a 25 percent increase in the pensions of former government employees.
Assad's father, the late President Hafez Assad, ruled the Arab country for 29 years. In 1982, he crushed a rebellion led by Islamist militants in the city of Hama, killing as many as 10,000 people, according to estimates cited by Human Rights Watch. BW