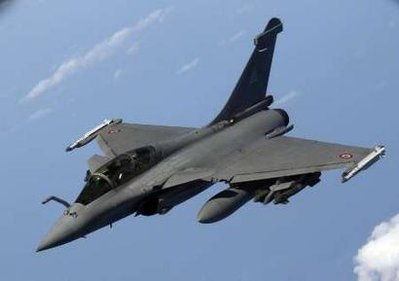 French warplanes have destroyed five Libyan military planes and two helicopters at Misrata air base in the past 24 hours, France's armed forces said.
Armed forces spokesman Thierry Burkhard said all seven Libyan aircraft were destroyed while on the ground at the base, near the insurgent-held town of Misrata, as they were preparing to carry out attacks in the area.
A patrol of French Rafale fighters, backed by an E2-C Hawkeye AWACS, carried out air strikes overnight and around 20 French planes supported by four tankers and an E3F AWACS struck targets during the day, the armed forces said in a statement.
The strikes, part of the U.N.-mandated campaign by a Western coalition to halt Muammar Gaddafi's offensive on rebels trying to end his 41-year rule, were in the Misrata and Zintan area.
Backed by the coalition air strikes, rebels retook the strategic town of Ajdabiyah on Saturday after an all-night battle that suggested the tide was turning against Gaddafi's forces in the east.
Pro-Gaddafi forces had earlier pounded the town with tank, mortar and artillery fire that halted only as coalition aircraft appeared overhead, a rebel told Reuters.
The five planes destroyed at Misrata were Galeb fighter jets and the helicopters were MI-35's, the French armed forces said.
Two French and two Qatari Mirage 2000-5 jets carried out a joint surveillance mission of Libyan airspace from an air base on Crete, the statement also said.
Earlier in the week, French planes destroyed another Libyan plane just after it landed at Misrata. Reuters