Protests turn violent in Jordan scores injured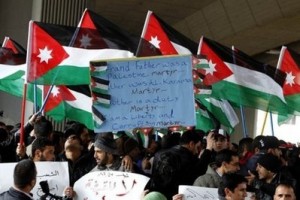 Demonstrations turned violent as government supporters clashed with protesters in the Jordanian capital Friday, hurling stones at each other. Scores of people were injured, according to news reports from Amman.
Hamza Mansour, leader of the opposition Islamic Action Front, said 26-year-old party member Khairi Jamil Saeed was "killed as a result of brutal police beating on his head and body," the Associated Press reported. It was the first reported death of a protester since the unrest began.]
Inspired by popular uprisings in Tunisia and Egypt, protesters have been pressing King Abdullah II to hand over more power to the parliament. But most of the demonstrations have been peaceful and relatively small.
Friday's violence started when several hundred government loyalists attacked more than 1,000 demonstrators who had vowed to camp out in a central square in front of the Interior Ministry until their demands were met, the Associated Press reported.
Police fired water cannons to disperse the crowds. Hundreds of officers then stormed the area, hitting anti-government demonstrators with batons, AP said.
Jordanian Foreign Minister Nasser Judeh said police were caught between the two sides and several officers were injured, CNN reported.
"Things have gotten a little out of hand," he was quoted as saying on CNN.com. "But we have a leadership that initiates reform." LAT