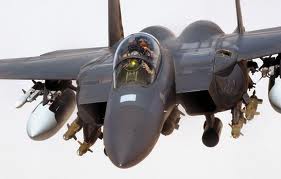 A US warplane has crash landed in a Libyan field in the area around Benghazi, The Daily Telegraph can disclose.
The pilot of the F-15E fighter jet was rescued by rebel soldiers after ejecting from the aircraft, it is understood. Another crew member is also thought to have ejected.
The crashed plane was discovered by a Telegraph journalist reporting in and around Benghazi, the rebel-held city.
It is thought the F-15E fighter jet came to ground after suffering a mechanical failure.
The US military confirmed that one of its jets had crash landed. Vince Crawley, a spokesman for the U.S. military's Africa Command, said that one crewman had been recovered and one was "in process of recovery".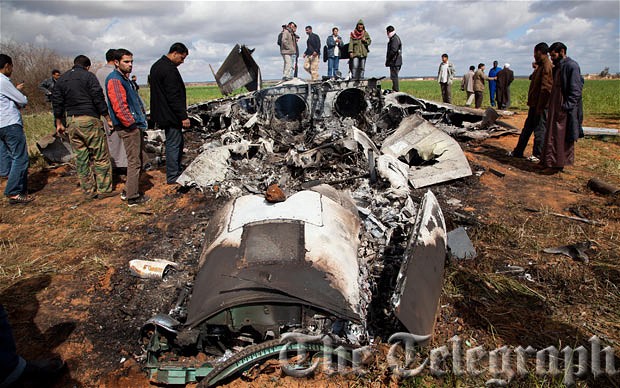 Crawley said the crash occurred "overnight." He declined to give the location of the crash and also would not say how the rescued crewman was picked up.
This is the first coalition aircraft to have crash landed during the Libyan conflict following the third night of air strikes.
The F-15E Strike Eagle is described by Boeing, its manufacturer, as "a superior next generation multi-role strike fighter".
It is the backbone of the US Air Force (USAF) and made its first flight in 1986.
The latest advanced avionics systems gives the Strike Eagle the capability to "perform air-to-air or air-to-surface missions at all altitudes, day or night, in any weather", Boeing boasts.
In April 2001, Boeing received a contract for a further ten F-15E aircraft for the USAF, bringing the total to 227.
The first production model of the F-15E was delivered to the US military in April 1988. The 'Strike Eagle', as it was dubbed, and first saw active service the following year.
Its maximum speed is twice the speed of sound and it has a digital threat warning system. Its 23,000lb arsenal includes air-to-air and air-to-ground weapons.
The planes are expected to be safe for operational used until at least 2035.
Since 2001 USAF F-15E aircraft have been almost exclusively used for close air support.
In addition to the United States, Korea and Singapore, Japan, Saudi Arabia and Israeli forces also have F15s.
Click here for more pics on the crash telegraph