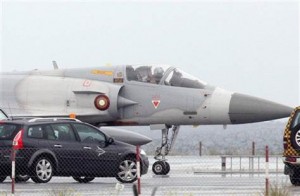 Two Qatar Air Force fighter jets and a cargo jet flew to a Greek air base on the island of Crete Tuesday in the first sign of military operations by Qatar so far to help enforce a no-fly zone over Libya, officials said.
The Mirage 2000 jets and the C-17 cargo aircraft made an unscheduled stop at Cyprus' Larnaca airport, and a Cyprus civil aviation official told the Associated Press that they left after refueling en route to Souda base in Crete. He spoke on condition of anonymity because he was not authorized to speak to the media.
High winds had forced the three planes to land at Larnaca for refueling, said another who spoke on condition of anonymity because of department policy.
Greece has granted permission for six Mirage fighters and two transport planes to operate from the base, said Lt. Col. Constantinos Bouzos, a Greek military spokesman. He did not know when all the planes would arrive on Crete.
Cypriot authorities initially refused the request by Qatar's planes to land, but later granted permission after the pilots declared a fuel emergency per international regulations, Cyprus government spokesman Stefanos Stefanou said.
RAF Akrotiri, one of two British military bases on Cyprus' southern coast, is hosting VC-10, RAF E3D and Sentinel surveillance aircraft which also provide refueling capability to help enforce the U.N.-sanctioned no-fly zone.
Cyprus President Dimitris Christofias has said the government does not condone any military action in Libya and is not taking part. He also expressed disapproval to the British government over use of the base for military action, but acknowledged Britain does not need permission from Cyprus.
The head of the Gulf states' main political bloc on Monday emphasized the commitment of Qatar and the United Arab Emirates to the international military coalition striking Libya but stressed the mission seeks only to protect civilians. The UAE has said it is providing only humanitarian aid.
The reaffirmation of the Gulf states' backing for the multinational force followed criticism by the Arab League's chief over the heavy missile barrages by U.S. and European forces against Libyan air defenses, tanks and other targets.
Qatari officials have said its planes will take part in enforcing the no-fly zone but have not provided specifics on their contribution to the effort.msnbc
Photo: A Qatar Emiri Air Force Dassault Mirage 2000-5EDA fighter jet prepares for takeoff from Larnaca international airport, Cyprus, Tuesday, March 22, 2011. Two Qatar Air Force fighter jets and a C-17 Globemaster cargo aircraft were heading to Crete Tuesday in the first sign of military operations by Qatar so far to help enforce a no-fly zone over Libya, officials said. The planes made an unscheduled stop at the island's Larnaca airport, and government spokesman Stefanos Stefanou said in a statement that the aircraft would depart after refueling. (AP Photo/Christos Thedorides)