Patriarch Rai: Freedom always has a price."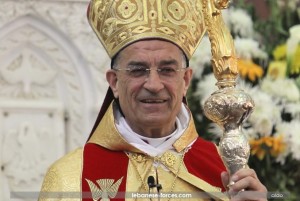 Two dynamite sticks were reportedly tossed by a speeding four- wheeler near the building of Radio Free Lebanon station in Adonis, Zouk mosbeh, just north of Beirut
Lebanon's newly-elected Maronite Patriarch Beshara Boutros al-Rai voiced regret over the incident and said:" If this is the price of freedom, then we accept it because freedom always has a price."
Radio Free Lebanon was founded by the late president Bechir El Gemayel.
Rai, 71, was elected last Tuesday as the 77th patriarch of Lebanon's Maronites, the country's largest Christian community which makes up about one third of the four-million population.
He succeeds Nasrallah Boutros Sfeir, who resigned recently due to his age after serving for 25 years as Patriarch of Antioch for the Maronites.