Tens of thousands of Yemenis have gathered in Sana'a for funerals of anti-government protesters shot dead by loyalists of President Ali Abdullah Saleh, whose own tribe has joined opposition calls for his resignation.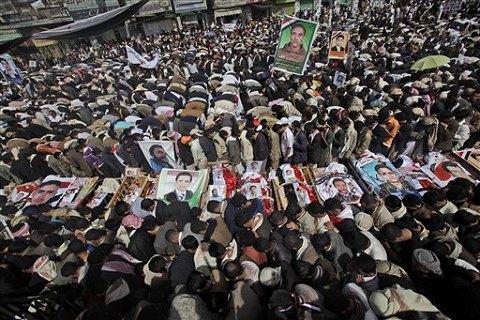 The large crowd of mourners attended funerals Sunday for some of the 52 people killed when pro-Saleh gunmen opened fire on opposition activists at a protest site near Sana'a University on Friday.
The head of Saleh's Hashed tribe, Sheikh Sadiq al-Ahmar, issued a joint statement with prominent clerics late Saturday, holding the Yemeni president responsible for the killings and demanding that he resign the post he has held for 32 years.
The tribal leader and the clerics praised the youths and other opposition activists who have been calling for Saleh's ouster during more than a month of daily protests in Sana'a and other cities. They also urged Yemeni troops to disobey orders to attack the demonstrators.
Saleh declared a nationwide state of emergency Friday, shortly after the deadly crackdown on protesters in Sana'a.
In another setback for the president, his Human Rights Minister Huda al-Ban resigned Sunday in protest at Friday's killings. She is the latest of several ministers to quit his government in recent days.
Saleh has offered to hold a dialogue with the opposition on a new constitution and promised to step down at the end of his term in 2013. Opposition groups and activists have rejected those gestures. VOA