Mikati: 'Syria has never interfered'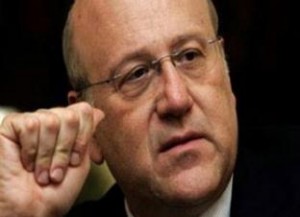 Lebanon's Prime Minister-designate Najib Mikati denied any Syrian interference in the process of forming a new Lebanese cabinet .
"Syria has never interfered," Miqati told An Nahar newspaper in remarks published Monday.
Asked about reports that March 8 officials were bickering with him over cabinet seats and shares.
"I cannot please all parties, but I am seeking to form a balanced cabinet … I wish the Lebanese people would bear with me a little longer". He said
He admitted that the progress a slow but stressed that he is not pessimistic " regarding cabinet formation ."
He added that he "has not given up" on forming a cabinet and that he is "putting all his effort" into it.
Mikati's comes after well informed sources told An Nahar newspaper on Sunday that the actual impasse was due to a lack of a regional green light on the cabinet formation.
Both Syria and Iran are reportedly awaiting the outcome of the uprisings in the region the sources said and FPM Leader Michel Aoun is being used by Iran, Syria and Hezbollah as a facade to delay the formation by making excessive demands . Aoun has reportedly been demanding 12 out of the 30 cabinet seats.
During an interview with LBC Sunday morning, Phalange Party deputy head Sejaan Qazzi blamed March 8 for the delay in cabinet formation
"Prime Minister-designate Najib Mikati's problem is now with the majority that nominated him," Qazzi said
"It has become clear that March 8 has delegated Mikati with not forming the cabinet, due to the obstacles they are placing before him," he said