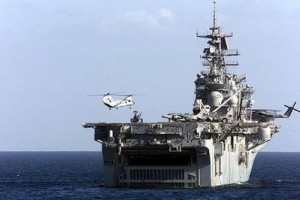 The U.S. military launched its first airstrikes on Libyan leader Moammar Gadhafi's air defenses Saturday, a Pentagon official said.
"Earlier this afternoon, over 110 Tomahawk cruise missiles fired from both U.S. and British ships and submarines — struck more than 20 integrated air defense systems and other air defense facilities ashore," U.S. Vice Adm. William Gortney told reporters.
He said the majority of the targets were on or near the coast, in the western part of the country.
A senior military official said earlier that U.S. Tomahawk missiles landed in the area around Tripoli and Misrata, adding that the action was taken after Gadhafi failed to comply with a cease-fire.
"He's clearly been on the offensive," the official, who was not authorized to speak on the record, said of Gadhafi. "He said that he was going to do a cease-fire and he continued to move his forces into Benghazi."
U.S. President Barack Obama confirmed that he had authorized "limited military action in Libya" and that "that action has now begun."
He is planning for the U.S. portion of the military action in Libya to last just a few days, according to a senior administration official.
"In terms of the heavy kinetic portion of this military action, the president envisions it as lasting days, not weeks," said the senior official, who was not authorized to speak about sensitive military matters. "After that we'll take more of a supporting role."
Obama noted that military action "is not an outcome that the U.S. or any of our partners sought," pointing out that Gadhafi was offered the opportunity to comply with an immediate cease-fire.
"But despite the hollow words of his government, he has ignored that opportunity," Obama said. "His attacks on his own people have continued, his forces have been on the move," and the danger for the Libyan people has grown.
The airstrikes on Gadhafi's air defenses are the first phase in what will likely be a multiphase military operation.
"At this point we are creating the conditions to be able to set up the no-fly zone," Gortney said.
The senior military official said earlier that phase two of the mission would include planes flying over Libyan airspace near Tripoli, and in the Mediterranean Sea near Benghazi.
The coalition says the no-fly zone imposed as part of a U.N. Security Council resolution aims to prevent further attacks by regime forces on Libyan citizens and opposition groups, especially around Benghazi.
In addition to the United States, four nations have publicly announced their participation: the United Kingdom, Canada, Italy and France. Other nations are expected to announce their participation soon.
The initial mission will be commanded by U.S. Army Gen. Carter Ham and U.S. Africa Command. The Joint Task Force's "Odyssey Dawn" is being commanded by U.S. Navy Adm. Sam Locklear, on board the USS Mount Whitney in the Mediterranean Sea.
"The use of force is not our first choice, and is not a choice that I make lightly," Obama said in a statement from Brazil where he is on a tour of Latin America. "But we cannot stand idly by when a tyrant tells his own people that there will be no mercy."