Mikati briefs Suleiman over cabinet formation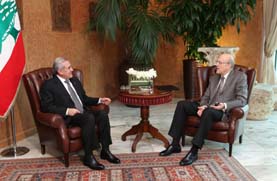 Prime Minister-designate Najib Mikati briefed president Michel Suleiman on Saturday over the government formation process.
It appears that the government formation is still Stuck over Interior Ministry Portfolio.
According to local reports one of formulas that is being discussed over the cabinet makeup calls for granting the so called centrist group 11 ministerial portfolios in a 30 member cabinet … 2 for President Michel Suleiman , 3 for MP Walid Jumblat and 6 for Mikati .
The formula grants 10 for FPM , 2 for the Marada Movement , 4 for AMAL and 3 for Hezbollah.
FPM leader MP Michel Aoun has reportedly been demanding 12 – 15 ministerial posts including the ministry of Interior , but Suleiman is reportedly committed to reappointing Ziad Baroud as the Minister of Interior
Suleiman is reportedly keen on granting the defense and interior ministries to centrists.
The Iranian and Syrian -backed Hezbollah brought down Hariri's government on January 12 over the Special Tribunal for Lebanon's (STL) imminent indictment which is widely expected to implicate Hezbollah members in the assassination of former PM Rafik Hariri in 2005
Nagib Mikati was appointed in January as the PM designate with the backing of the Hezbollah March 8 alliance and MPs Walid Jumblatt and Mohammad Safadi following the collapse of Hariri's unity government. March 14 leaders have repeatedly said that intimidation from Hezbollah's weapons helped secure the parliamentary majority for Mikati's nomination.
Jumblatt and his PSP parliament members reportedly switched allegiance to Hezbollah's PM candidate, following threats by Hezbollah.
Jumblatt, Mikati and Safadi were all elected on March 14 electoral tickets during the 2009 parliamentary elections.
March 14 parties have announced that they will not take part in the cabinet Mikati is currently forming, and Hariri vowed last week to fight the use of non-state weapons "peacefully and democratically."