Iran expels Bahraini diplomat in tit-for-tat move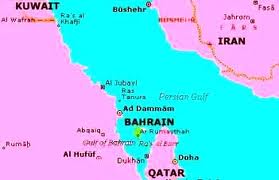 Iran ordered a Bahrainian diplomat to leave the country on Sunday after Bahrain expelled Iran's charge d'affairs amid rising tensions over protests in the Gulf island state.
Iran's English language Press TV quoted Foreign Ministry spokesman Ramin Mehmanparast as saying Bahrain's charge d'affaires had been summoned and told one diplomat must leave. Mehmanparast called the Bahraini action "illogical and incomprehensible", it said.
"Responding to the legitimate demands of the population guarantees the stability and permanence of governments, while the repression of peaceful protests and illogical actions only aggravate the crisis and deepen wounds," he said.
Iran on Wednesday recalled its ambassador from Bahrain "in protest at the killing of the people of Bahrain by its government," a day after Manama recalled its ambassador from Tehran, citing Iran's "blatant interference" in its affairs.
Tehran said Manama had made a "strategic mistake" in asking Gulf troops to help quell pro-democracy protests in the tiny kingdom.
Syria sides with Bahrain
In his first official reaction to the deployment of Peninsula Shield forces to Bahrain, Syrian Foreign Minister Walid al-Moallem told Asharq Al-Awsat newspaper , that these forces are not forces of occupation and they acted within the framework of their GCC agreement .
"The agreements that established the Peninsula Shield Force between the GCC countries forms the legal basis for the deployment , and the "consent of the Kingdom of Bahrain over the entry of these forces confirms their legitimacy ."
About the possibility that the Syrian position on this issue could adversely affect its relations with Iran , particularly since the latter opposed the deployment of the Peninsula Shield forces in Bahrain, the Syrian minister said : "We are part of the Arab nation and have been working for better relations between Iran and the Arab world. For this reason we have to be very clear about our own position and at the same time respect the Iranian position. "
Hezbollah's position
Hezbollah's position over the deployment of the Peninsula Shield forces in Bahrain is like Iran's .
During a televised speech on Saturday evening Hezbollah chief Sayyed Hassan Nasrallah called the events in Bahrain a "special injustice". Nasrallah asked whether Arab silence about the repression of protests there is due to sectarian prejudice against the Shiite-majority opposition.
"I ask some in the Arab and Islamic worlds: Why have you remained mum over the tyranny against our people in Bahrain, is it only because they are Shiites?"
Agencies