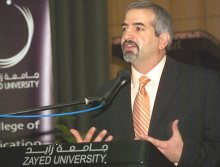 Four journalists for The New York Times, including two-time Pulitzer Prize winner Anthony Shadid ( Lebanese citizen) and MacArthur "genius grant" recipient Lynsey Addario, are missing in Libya, the newspaper said Wednesday on its website.
Editors at the paper said they had last been in touch with the journalists Tuesday morning, U.S. Eastern time, according to the report. It said the newspaper received secondhand information that "members of its reporting team on the ground in the port city of Ajdabiya had been swept up by Libyan government forces."
However, the newspaper has been unable to confirm those reports, Executive Editor Bill Keller said on the newspaper's website.
"We have talked with officials of the Libyan government in Tripoli, and they tell us they are attempting to ascertain the whereabouts of our journalists," Keller said. "We are grateful to the Libyan government for their assurance that if our journalists were captured they would be released promptly and unharmed."
A battle raged Wednesday in Ajdabiya between government troops and rebels.
Bob Christie, senior vice president for corporate communications at The New York Times Co., said Wednesday that the Libyan government told the newspaper it was unaware of the journalists' whereabouts.
"They've told us they have a lot of prisoners and that they're processing them" and suggested that the four could turn up in that process, Christie said.
Libyan government forces said Wednesday that they have no information about where the journalists may be and that, if they were picked up by the Libyan military, they would be returned to Tripoli.
The newspaper identified the journalists as Shadid, its bureau chief in Beirut, Lebanon, and two-time Pulitzer winner for foreign reporting; Stephen Farrell, a reporter and videographer who was kidnapped by the Taliban and rescued by British commandos in 2009; and Tyler Hicks and Addario, photographers who have covered the Middle East and Africa.
"Their families and their colleagues at The Times are anxiously seeking information about their situation, and praying that they are safe," Keller said.
Addario, a freelancer based in India, recently won a MacArthur Fellowship — known as a "genius grant" — for her photography around the world. In an e-mail Monday to CNN correspondent Ivan Watson, Addario called the Libya story "one of the most dangerous" of her career.
The e-mail said, "qaddafi's forces heading back east, and the rebels are surrendering along the way…so exhausted. this story has been one of the most dangerous i have ever covered. getting bombed from the air and by land."
Shadid was shot in the shoulder by the Israeli Army in Ramallah in spring 2002.
Farrell routinely reports from Pakistan, Afghanistan and Iraq. Before joining The New York Times in 2007, he worked for the Times of London. In April 2004, he was kidnapped on assignment in Iraq.
Hicks, a staffer for the paper, is based in Istanbul and has served as an embed in Afghanistan.
In a 2004 interview with the StarNews of Wilmington, North Carolina, Hicks described how he felt about his job: "Covering conflicts is a very rewarding experience because you can bring attention to global issues. When I'm working and a photograph appears in The New York Times, I always remind myself of who is seeing that photograph" and the number of people it may have reached, he said. "That is when I can go to bed at night and feel good about what I have done that day."
Hicks and Addario are both from Westport, Connecticut.