Hariri says fighting corruption requires a strong state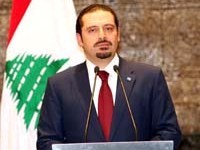 "Fighting corruption is not achieved by slogans, but through supporting the state project and empowering its institutions," Caretaker Prime Minister Saad Hariri who is on a three day visit to Northern said on Thursday.
"Those who pretend to fight corruption… are corrupt themselves, and all the Lebanese people know their history," he added while receiving official delegations in his Tripoli's residence. This was a possible reference to Free Patriotic Movement Leader MP Michel Aoun who accuses March 14 of corruption.
A WikiLeaks cable revealed last February that Syrian Director of Military Intelligence Asaf Shawkat helped transfer $50 million in 2008 for OTV television in Qatar under the names of Aoun's daughters .
Hariri also said that his team tried to enhance the harmony between the Lebanese people through a national-unity cabinet, but "we were always faced by those who want the state to remain imprisoned by the non-state arms." In reference to Hezbollah arms
Missing $35 million
Lebanon's Former MP Farid Haikal al-Khazen accused last March Aoun of being a liar and his son-in-law Gebran Bassil of being a thief .
The former MP was responding to Aoun's accusations over corruption
"You have no right to ask us about anything, especially as you have not clarified the issue of the $35-million you took from the Treasury 15 years ago, before leaving for exile in France," Khazen said,stressing that Aoun is just a thief who robbed the state ".
The former MP also challenged Aoun to disclose all of his and his family's bank account information, including those of their offshore accounts.