MTV: Aoun offered 10 posts in new cabinet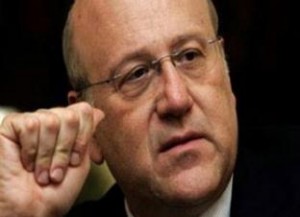 Sources following up on cabinet formation process told MTV that FPM leader MP Michel Aoun will be granted 10 portfolios, while he is demanding 15. Caretaker Interior Minister Ziad Baroud will keep the interior portfolio after an agreement was reached between president Suleiman and PM Designate Nagib Miqati.
Mikati is trying to form a cabinet of 30 ministers.
The Iranian and Syrian -backed Hezbollah brought down PM Saad Hariri's government on January 12 over the Special Tribunal for Lebanon's (STL) imminent indictment which is widely expected to implicate Hezbollah members in the assassination of former PM Rafik Hariri in 2005
Mikati was appointed in January as the PM designate with the backing of the Hezbollah March 8 alliance and MPs Walid Jumblatt and Mohammad Safadi following the collapse of Hariri's unity government. March 14 leaders have repeatedly said that intimidation from Hezbollah's weapons helped secure the parliamentary majority for Mikati's nomination.
MP Okab Sakr a key member of March 14 alliance criticized Mikati during an interview with Akhbar al-Yawm on Thursday: "President Suleiman won't approve a one-sided government. Mikati is making contradictory statements and his remarks on a balanced government don't reflect the way he was appointed to his position."