Disputes continue to delay cabinet formation in Lebanon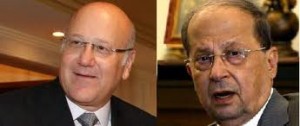 The demands by Free Patriotic Movement MP Michel Aoun that he should have 11 out of the 30 ministerial posts is reportedly causing the delay of the cabinet formation
PM designate Nagib Mikati was quoted Wednesday as saying that the constitution doesn't allow any one group to acquire a decisive or blocking cabinet share.
Aoun is also demanding to review the ministerial statement before it goes for a vote because he wants to inquire about how it addresses the Special Tribunal for Lebanon (STL), Hezbollah weapons, and combating corruption.
Aoun is also demanding the post of ministry of interior , while president Suleiman wants this post to be allocated to the current caretaker minister Ziad Baroud
During an interview with Central News Agency FPM MP Hikmat Deeb blamed Mikati for the delay and said : "Stalling over the government formation is no longer acceptable" He added: Damascus objects to the delay."
Mikati reportedly met Thursday with resigned Minister Gebran Bassil ( Aoun's son-in-law) , Amal MP Ali Hassan Khalil and Hezbollah's Hussein Khalil to discuss the formation of the new government
The Iranian and Syrian -backed Hezbollah brought down Hariri's government on January 12 over the Special Tribunal for Lebanon's (STL) imminent indictment which is widely expected to implicate Hezbollah members in the assassination of former PM Rafik Hariri in 2005
Mikati was appointed in January as the PM designate with the backing of the Hezbollah March 8 alliance and MPs Walid Jumblatt and Mohammad Safadi following the collapse of Hariri's unity government. March 14 leaders have repeatedly said that intimidation from Hezbollah's weapons helped secure the parliamentary majority for Mikati's nomination.
MP Okab Sakr a key member of March 14 alliance criticized Mikati during an interview with Akhbar al-Yawm on Thursday: "President Suleiman won't approve a one-sided government. Mikati is making contradictory statements and his remarks on a balanced government don't reflect the way he was appointed to his position."