Reactions to Rai's election as Lebanon's new Patriarch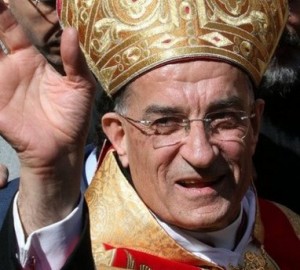 President Michel Suleiman reacted to the election Tuesday of Archbishop of Jbeil Beshara Rai as Lebanon's new Patriarch by saying : "He is the best successor to the best predecessor,"
In a statement Suleiman wished the newly-elected patriarch luck in protecting Lebanon and its people and said that he hoped the new leader of the Maronite church would succeed in keeping Bkirki a "place that unites all the Lebanese."
Suleiman added that Rai "will hold on to the Maronite and national principles of the Patriarchate."
Voice of Lebanon said that Suleiman will visit the newly elected Patriarch later in the day to congratulate him on his election.
Many Lebanese leaders welcomed the election Tuesday of Rai as the new Maronite Patriarch .
Hariri
Outgoing Prime Minister Saad Hariri issued a statement on Tuesday congratulating the Lebanese people, the Maronites in particular, for the election of Rai as the new patriarch. He added that "Rai's election is a national moment par excellence."
Hariri wished the newly-elected patriarch luck in his "national and religious responsibilities during this critical stage that Lebanon is witnessing."
The election of a new patriarch is a "national event" for all Lebanese sects who consider Bkirki a "slogan to Lebanon's cultural and humanitarian message to the world and a site of inter-religious dialogue," Caretaker Premier Saad Hariri said in a statement released by his press office.
Hariri hoped that al-Rahi would "be able to carry out his religious and national responsibilities at this sensitive stage" and would "preserve Lebanon's unique coexistence and national unity."
Hariri headed later to Bkirki to congratulate Rai
Gemayel
Former Lebanese president and current Phalange party leader Amin Gemayel, who was among the first officials to arrive in Bkirki after the announcement of Rai's election, told reporters that "there was no doubt" the new patriarch "would defend Lebanon's sovereignty and independence."
"He is a man of unity," Gemayel said
Geagea
Lebanese Forces leader Samir Geagea described Rai as "a man of courage."
In comments to his party's website, Geagea said: "All Christians and mainly Maronites … should support the new patriarch."
Geagea leader later visited Bkirki to congratulate the new patriarch.
After meeting Rai Geagea expressed happiness over his election:
"As much as I congratulate the new patriarch, I don't envy him because he has a long and difficult task ahead of him," Geagea stated.
Edde
National Bloc leader Carlos Eddé said that the election of Rai as the new Maronite patriarch "is important for Lebanon and not only the church."
"The new patriarch will not only defend the Maronite sect but also the nation's politics," Eddé told Future News television.
Hamade
Former Minister Marwan Hamade congratulated the Lebanese people and the Maronites in particular, for the election of the new patriarch, adding that "the church gave us lesson on how to elect someone in a fast and smooth way."
"The new patriarch will be like his predecessor in defending independence and sovereignty," Hamade told OTV.
March 14
Head of the March 14 General Secretariat Fares Soueid told Future that newly-elected Maronite Patriarch is patriotic, adding that he was the best candidate to succeed Sfeir.
Soueid said : One of the church's principles is that there is only one army in Lebanon.
Aoun
Free Patriotic Movement leader MP Michel Aoun congratulated Rai and said"we are all with him and will support him "
Sfeir
Commenting on Rai's election Sfeir said: "He is one of the pillars of the church (in Lebanon) and is open to all the communities
Rai
Rai vowed on Tuesday to maintain Sfeir's legacy of patience, kindness, love and reliance on divine providence.
"Sfeir held the cross and taught us how to carry it on our shoulders and in our hearts." Rai said
Addressing bishops who elected him earlier on Tuesday, Rai said: "We have lived great joys together and you have shown me great love. I have chosen my journey's slogan and it is love and partnership."
He also thanked all the people who went to Bkirki to congratulate him following his election, added, "We pray for Lebanon to overcome its crisis."
Rai, 71, whose name means ( shepherd) was elected Tuesday to succeed the 91-year-old Sfeir, who resigned recently due to his age after serving for 25 years as Patriarch of Antioch for the Maronites.
Our joy has no limit," Monsignor Boulos Nasrallah, of Rai's archdiocese in Jbeil, north of Beirut, said as church bells tolled.
Sfeir, 90 had asked several months ago to be relieved of his post because of his age. Sfeir's resignation was accepted last month during a meeting with the pope on the sidelines of a visit to the Vatican to unveil a statue of the Maronite Church founder Saint Maroun on the outer wall of Saint Peter's Basilica.