Archbishop Rai replaces Sfeir as Maronite patriarch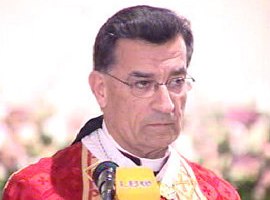 Archbishop of Jbeil Beshara Rai was elected as the 77 patriarch of the Maronite church in Lebanon on Tuesday to succeed Nasrallah Boutros Sfeir, Monsignor Youssef Tawk announced from the seat of the church in Bkirki.
Rai, 71, was elected to succeed the 91-year-old Sfeir, who resigned recently due to his age after serving for 25 years as Patriarch of Antioch for the Maronites.
Monsignor Tawk said a church service would be held on March 25 to mark Rai's inauguration.
"Our joy has no limit," Monsignor Boulos Nasrallah, of Rai's archdiocese in Jbeil, north of Beirut, said as church bells tolled.
The new patriarch will receive well-wishers for three days starting Wednesday from 9:30 am till 12:00 pm and from 4:00 pm till 6:00 pm, Toq added.
Maronite churches across Lebanon tolled bells from 12:00 pm till 12:30 pm upon the request of Bkirki's secretariat.
Sfeir praised Rai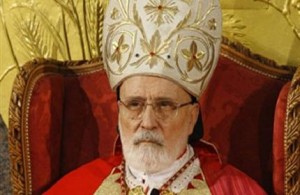 Sfeir, 90 had asked several months ago to be relieved of his post because of his age. Sfeir's resignation was accepted last month during a meeting with the pope on the sidelines of a visit to the Vatican to unveil a statue of the Maronite Church founder Saint Maroun on the outer wall of Saint Peter's Basilica.
Commenting on the election of Rai Sfeir said
"He is a very qualified person from a spiritual standpoint," and added: "He listens to everyone and greets everyone the same, whatever their background.
"He is one of the pillars of the church (in Lebanon) and is open to all the communities," he added.
Rai praises Sfeir
Rai said after his election that Sfeir is the "permanent patriarch" and vowed to "preserve his patrimony."
The Maronite bishops gathered at Bkirki since Wednesday March 9 to elect the new patriarch following a spiritual conclave which lasted 3 days. The elections started last Saturday . Until yesterday evening the competition was between 4 bishops , but around midnight OTV reported that the competition was between 2 only
The head of the Maronite church, which has a following of some five million people worldwide, is very influential in Lebanon where Christians make up about 30 percent of the four million population.
In a statement released by the Vatican last month , Pope Benedict said that Sfeir's decision was an "expression of great humility."
Even though he is not a politician, Sfeir was never afraid of speaking out for the cause of justice. This is why he is feared by some, resented by some, loved and respected by many who know him well.
While the Outgoing prime minister Saad Hariri who is a Muslim Sunni calls Sfeir "The conscious of Lebanon." Christian leaders like Free Patriotic Movement chief MP Michel Aoun and Marada Movement leader Suleiman Franjieh are very critical of Sfeir for being so outspoken against their allies: The Hezbollah militant group and the Syrian regime.