PSP's Jumblatt, Hezbollah discuss cooperation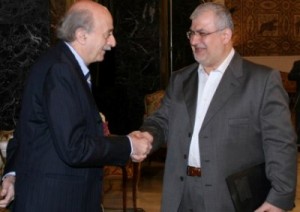 Progressive socialist party leader MP Walid Jumblat commented about yesterday's rally after meeting with a Hezbollah delegation that was headed by MP Mohammad Raad :
I would've liked to hear a courageous voice during yesterday's rally. Sheikh Saad (Hariri ) must prevent civil strife and let's return to dialogue.
Raad commented on the meeting by saying : "We met to put the final touches on the course of our close cooperation which is aimed at exiting the crisis."
In a country of 4 million people, more than one million Lebanese of all faiths… Christians, Druze , Muslim Shiites and Sunnis demanded that Hezbollah be disarmed as they rallied to mark the sixth anniversary of the Cedar Revolution, the uprising which inspired the recent revolts in the Middle East, International news agencies reported.
The theme at Sunday's rally was simple:" We want one state …one army to defend the country …lets unite the country and get rid of all the other states and armies ," the organizers said in reference to Hezbollah's state within the state of Lebanon and the non-state ( illegal) arms.
Jumblatt's criticism of Hariri after what he said earlier today baffled observers.
Commenting on Sunday's rally by March 14 supporters against the non-state weapons Jumblatt said in remarks to be published Tuesday:"No one agrees to using arms domestically because such an action is destructive to national unity and all achievements fulfilled following the Taif Accord."