Obama issues another warning to Gaddafi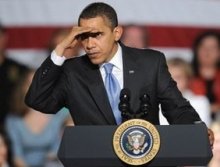 US President Barack Obama on Monday issued a new warning to Libya's leader Muammar Gaddafi, ahead of talks by his Secretary of State Hillary Clinton with opposition leaders in Paris.
"Mr Gaddafi has lost his legitimacy and he needs to leave," Obama said, as he met Danish Prime Minister Lars Loekke Rasmussen in the Oval Office.
Obama said the international community must "speak firmly against any violence that is directed at civilians," in Libya and pledged to provide humanitarian aid to people who had fled their homes.
No Fly Zone
In a related development Lebanon said Monday it will take the lead in drafting a U.N. Security Council resolution to impose a no-fly zone over Libya, a measure that still lacks council agreement, following a formal request by the Arab League to enforce vigilance over Libyan skies.
Lebanon's U.N. ambassador Nawaf Salam said he presented the Arab League decision over the weekend to support a no-fly zone to a private Security Council meeting and that the council "will be meeting soon to make a decision on this matter."
Imam Sadr's fate
Earlier today Lebanon Speaker nabuh Berri called Arab league chief Amr Moussa and praised the decision for a no fly zone and stressed the importance of finding out about the fate of Imam Moussa al Sadr who disappeared in Libya over 30 years ago