Majdalani: The problem is Hezbollah not the shiites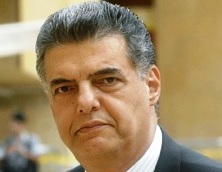 "The argument is with the bearers of weapons (Hezbollah) and not with the Shiite sect," March 14 MP Atef Majdalani old Future News TV on Saturday evening on the eve of the Sunday rally..
Anyone who wants to live safely under the rule of law, no matter his or her sectarian identity, should "stand with the state against the illegitimate weapons," Majdalani said
Rejection of non-state weapons is the main theme of March 14's media campaign in the run-up to the rally.
March 14 marks the 6th anniversary of the Cedar revolution when over 1 million Lebanese gathered in downtown Beirut to protest against the murder of the late PM Rafik Hariri and called on Syrian troops to leave Lebanon. The Syrian troops withdrew in April 2005, but the Syrian regime retained its influence through Hezbollah and its March 8 allies.
The March 14 coalition is holding the rally on Sunday March 13 because it is a holiday "to reaffirm its commitment to the principles of the Cedar Revolution" , according to a Future Movement statement.
Caretaker prime minister Saad Hariri , son of the assassinated leader vowed last week to fight the use of non-state weapons "peacefully and democratically."
March 14 parties met at the Bristol Hotel on Thursday and announced a new political document that rejects non-state arms and reiterates support for the Special Tribunal for Lebanon probing the assassination of the former PM.
During his speech yesterday the caretaker PM addressed the Shiites of Lebanon by saying:
"Was it not Imam Mohammad Mehdi Shamseddine who banned the use of arms by any Lebanese against his Lebanese brother? A day will come where I will tell you what Imam Mohammad Hussein Fadlallah used to tell me."
"Was it not the Shiites who asked for sovereignty of the state in the South? Did not Imam Moussa Sadr rally against strife, war and non-state arms?" he added
"We commit to Imam Shamseddine's declaration and Imam Sadr's rejection of arms. Don't get carried away with claims and rest assured that no statelet can take the place of the Lebanese state and our democratic system." Hariri said in reference to Hezbollah's state within a state.