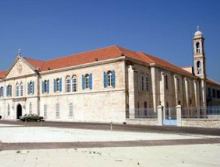 MTV reported on Saturday evening that so far Lebanon does not have a new Patriarch, since none of the bishops has obtained the two-thirds of votes necessary.
The 39 Maronite bishops met Saturday in Bkirki to elect a successor to Maronite Patriarch Nasrallah Boutros Sfeir , the report said. The winner should secure a minimum of 26 votes.
Sfeir, 90 had asked several months ago to be relieved of his post because of his age. Sfeir's resignation was accepted last month during a meeting with the pope on the sidelines of a visit to the Vatican to unveil a statue of the Maronite Church founder Saint Maroun on the outer wall of Saint Peter's Basilica.