Libyan no-fly zone could cost $300 million a week, report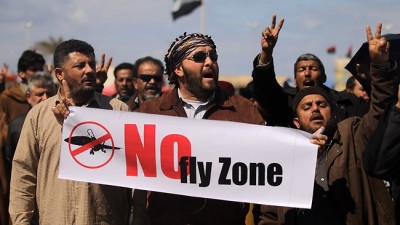 Establishing and taking control of the skies over Libya could cost the Pentagon up to $300 million a week – or around $15 billion a year – under mission scenarios formulated by a top Washington defense think tank.
Lawmakers have pressed the White House to consider a no-fly zone, but Pentagon officials have been mum about specific options under consideration.
As such, the report from the Center for Strategic and Budgetary Assessments shines a light on the Pentagon's thinking.
While several lawmakers have suggested it would not be difficult to set up the no-fly zone, the report suggests it would be expensive and complicated.
It presents three options for a no-fly zone: One that covers the entire nation; a "limited" plan covering the northern third of Libya; and a third focused only on coastal areas.
The full-coverage plan would account for all of Libya's 680,000 square miles and be the most operationally complex – and the most expensive.
"Assuming an operational tempo similar to that of the no-fly zones in Iraq, the ongoing cost might be in the range of $100 [million] to $300 million per week," states the report.
The full option would require taking out Libyan air defense systems in what the think tank says would be a "series of coordinated strikes" at a "one-time … cost between $500 million and $1 billion."
The northern option would put U.S. aircraft in control of all Libyan turf above the 29th parallel, which includes about 230,000 square miles, according to CSBA. The cost of this kind of mission would fall between $30 million and $100 million per week.
A northern no-fly would also require the U.S. military to deal with Libyan air defense systems, meaning it would still come with a one-time bill of between $400 million and $800 million, CSBA said.
Sen. Joseph Lieberman (I-Conn.) last week suggested setting up a no-fly zone would not be difficult, saying Libyan air bases are located "on one strip of land … along the north coast." Lieberman is the chairman of the Senate Armed Services AirLand subcommittee.
Sen. John McCain (R-Ariz.), ranking member of the full Armed Services panel, said Libyan air assets operate out of only four bases in that area. He called the Libyan regime's air defense systems "Soviet-style" and "modest," an opinion echoed by Lieberman.
The duo has been among the most vocal U.S. lawmakers in calling for the U.S. to set up a no-fly zone. These hawks say the administration has been too slow to answer Libyan strikes on rebel forces.
President Obama and the Pentagon have appeared to resist those entreaties, with military leaders highlighting the air strikes and costs necessary to set up a no-fly zone. The White House is reportedly concerned that U.S. military involvement could undermine the revolt by bringing in a Western presence.
Deputy Defense Secretary William Lynn on Thursday told the Senate Budget Committee he could not yet provide a no-fly zone cost projection because defense officials are still mulling mission options.
The third option presented by CSBA would primarily rely on missile-armed U.S. ships positioned off Libya's northern coast and land-based fighter aircraft.
"Ship-based Aegis radars and land-based AWACS aircraft could identify and track hostile aircraft at long range," CSBA said. "Aircraft violating the no-fly zone could be intercepted using ship-based SM-2 surface-to-air missiles or land-based fighter aircraft armed with beyond-visual-range AIM-120 air-to-air missiles."
This version of the mission would cost $15 million to $25 million per week, but there would be no one-time bill from engaging Libyan air defenses because those assets would not have to be destroyed, according to the report.
CSBA used data culled from similar U.S. operations in Yugoslavia and Iraq to arrive at its estimates for the first two options. The third option differs from those past operations, so the defense scholars based their projection on the cost of operating various military platforms and the cost of certain munitions.
Secretary of State Hillary Clinton told a congressional panel last week that the Iraqi no-fly zones – which were in place for several years – did not force out Saddam Hussein.
Defense Secretary Robert Gates, speaking at NATO headquarters in Brussels, Belgium on March 10, said the transatlantic military alliance would only launch operations in Libya "if there is demonstrable need, a sound legal basis and strong regional support."
The CSBA report was prepared by the center's Todd Harrison and Zack Cooper.
The think tank has ties to the Pentagon. Its president, Andrew Krepinevich, is a member of the Pentagon's influential Defense Policy Board, which reports directly to the defense secretary. Michael Vickers, the administration's nominee to be the next under secretary of intelligence and a current assistant secretary of defense, worked at the think tank before joining the Pentagon in 2007.