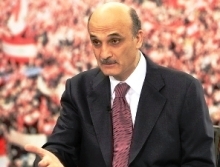 During an interview on Friday with MTV Lebanese Forces leader Samir Geagea said that the aim of March 14 alliance is to restore normalcy in Lebanon.
"The real problem is Hezbollah's arms, so when we solve it the problem of Syrian intervention will also be solved," Geagea said
"Stop underestimating the Lebanese army's role, no one can defend Lebanon better than the Lebanese State," the LF leader stressed.
"We want to restore normalcy in Lebanon," he stressed
He said the importance of the March 13 rally lies in raising the issue of non-state weapons without any fears."
Geagea said most of the Lebanese want to get rid of the abnormal situation and for this reason they should participate in the March 13 rally in Martyrs Square to help restore normalcy to Lebanon .
Geagea warned that if the Hezbollah-March 8 alliance "takes any red line steps such as annulling the cooperation protocols signed with the Special Tribunal for Lebanon( STL), then definitely new demonstrations will follow after Sunday's rally."
March 14 marks the 6th anniversary of the Cedar revolution when over 1 million Lebanese gathered in downtown Beirut to protest against the murder of the the late PM Rafik Hariri and called on Syrian troops to leave Lebanon. The Syrian troops withdrew in April 2005, but the Syrian regime retained its influence through Hezbollah and its March 8 allies
The March 14 coalition is holding the rally on Sunday March 13 "to reaffirm its commitment to the principles of the Cedar Revolution" , according to a Future Movement statement
Outgoing PM Saad Hariri vowed last week to fight the use of non-state weapons "peacefully and democratically."
This error message is only visible to WordPress admins
Error: No connected account.
Please go to the Instagram Feed settings page to connect an account.