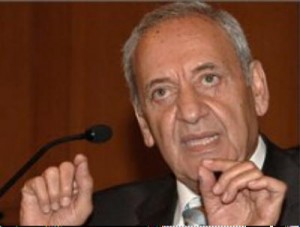 Lebanon parliament Speaker Nabih Berri called Friday for an immediate recognition by all Arab governments of the Libyan rebel National Council.
National News Agency reported that Berri sent letters to the heads of parliaments and urged the union of Arab parliaments to call for trying Qaddafi and his aides "over the war crimes he is committing [in Libya]."
In a letter to the head of the Arab Inter-parliamentary Union Mohammed bin Mubarak al-Khulaifi he wrote : "Immediate calls should be made to all Arab governments for the immediate recognition of the council which represents the popular revolution and the people's resistance to the barbarism of the Gadhafi regime."
"It's unacceptable to leave the Libyan people exposed before the regime's" attacks and the "political and media deception aimed at covering up its crimes," he added.
On Thursday, France became the first country to recognize Libya's opposition as the legitimate representatives of the Libyan people.
The Lebanese Amal Movement – headed by Berri and founded by Lebanese Shiite Imam Moussa al-Sadr – has repeatedly blamed Qaddafi for Sadr's disappearance in 1978 in Libya.
Syria helps Gaddafi
What is ironic about Berri's demand is that Syria , his closest ally in the region is reportedly helping Gaddafi .
Opposition sources said Syrian Air Force officers were flying some of the MiG-23 and MiG-25 fighter-jets ordered to attack rebel-held towns in Libya. They said at least one Syrian Air Force officer was killed and identified after his plane was downed.
Syria has sent weapons and other military equipment to the Libyan regime of Col. Moammar Gadhafi, the opposition sources said.
Syrian opposition sources said the regime of President Bashar Assad has approved the deployment of hundreds of fighters to Libya as well as air and anti-tank munitions to Gadhafi. They said Syrians have also served as pilots for Gadhafi's fleet of MiG fighter-jets.
Syria said on Thursday it was against foreign intervention in Libyan affairs as Western states debated how they should respond to a popular uprising against Libya's leader Muammar Gaddafi.