Bellemare expands secret Hariri murder indictment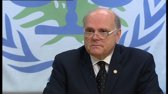 The prosecutor in the assassination case of former Lebanese Prime Minister Rafik Hariri says he has filed an expanded indictment.
The indictment remains secret and the names of the suspects under investigation have not been released.
But Hezbollah, a powerful Shiite militia, has said it believes some of its members may be named, and has warned the case could touch off renewed bloodshed in Lebanon.
Prosecutor Daniel Bellemare filed his first indictment in January in the 2005 truck bombing in Beirut.
He said in a statement that an amendment he filed Friday "expands the scope of the indictment." He did not say how.
Special Tribunal for Lebanon (STL) spokesman Crispin Thorold says it may take months for judges to review thousands of supporting documents.