Syrian pilot killed after his plane downed in Libya, report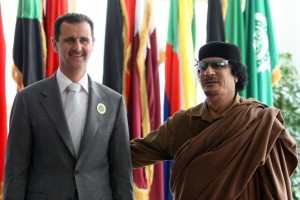 Opposition sources said Syrian Air Force officers were flying some of the MiG-23 and MiG-25 fighter-jets ordered to attack rebel-held towns in Libya. They said at least one Syrian Air Force officer was killed and identified after his plane was downed.
Syria has sent weapons and other military equipment to the Libyan regime of Col. Moammar Gadhafi, the opposition sources said.
Syrian opposition sources said the regime of President Bashar Assad has approved the deployment of hundreds of fighters to Libya as well as air and anti-tank munitions to Gadhafi. They said Syrians have also served as pilots for Gadhafi's fleet of MiG fighter-jets.
Syria said on Thursday it was against foreign intervention in Libyan affairs as Western states debated how they should respond to a popular uprising against Libya's leader Muammar Gaddafi.
"Syria affirms its rejection of all forms of foreign interference in Libyan affairs, since that would be a violation of Libya's sovereignty, its independence and the unity of its land," the Foreign Ministry said in a statement.
Uprisings like those seen in Tunisia and Egypt have not emerged in Syria, where security forces keep tight control. Authorities have intensified a long-running campaign of arrests of dissidents and opposition figures.
President Assad said there was no chance the political upheaval shaking the Arab world would spread to Syria, which has been controlled by his Baath Party for the last five decades.
Assad said that Syria's ruling hierarchy was "very closely linked to the beliefs of the people" and that there was no mass discontent against the state.
Uman Rights watch reported on Thursday that Lebanese Military Intelligence agents detained at least six Syrians, all members of the Jasem family, on February 23 and 24, 2011, after they distributed flyers calling for protests demanding democratic changes in Syria. One of them, Jasem Mer`i Jasem, disappeared in the early hours of February 25 with two of his brothers who had gone to pick him up from a police station in Ba`abda, a suburb east of Beirut. Their family is concerned that the three might have been forcibly transferred to Syria.
"We fear that Lebanon may be back to doing Syria's dirty job of shutting up its critics," said Nadim Houry, Beirut office director at Human Rights Watch. "Lebanon's judiciary should open an independent inquiry into why the Syrian men were detained in the first place and the murky events surrounding the disappearance of Jasem Mer`i Jasem and his two brothers."
Agencies