NATO starts 24-hour surveillance of Libya airspace
NATO says it has started round-the-clock surveillance of the air space over Libya, where government jets have been pounding rebel positions in an effort to defeat an uprising.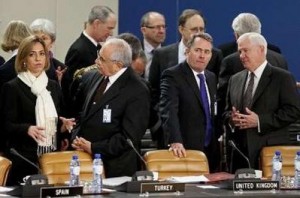 A NATO official said the first airborne warning and control plane went on patrol at 6:30 GMT (1:30 a.m. EST) on Thursday morning. He says each of the Boeing E-3 Sentry aircraft will remain over the Mediterranean for eight hours before being replaced by another plane.
NATO has 17 E-3s. Several planes are currently operating over Afghanistan. The entire fleet is registered in Luxembourg, a country without an air force.
NATO decided Monday to provide the surveillance. Orders to the E-3 squadron went out on Tuesday, said the official who could not be identified under standing rules.
THIS IS A BREAKING NEWS UPDATE. Check back soon for further information. AP's earlier story is below.
BRUSSELS (AP) — The Libyan government, trying to put down an uprising against leader Moammar Gadhafi, is mounting a diplomatic press to stave off tough action by the European Union and NATO.
Mohamed Tahir Siala, a Libyan envoy, met Thursday with two Greek foreign ministry officials. Similar talks were held in Lisbon on Wednesday with Portugal's Foreign Minister Luis Amado.
The meetings come as European leaders begin two days of emergency talks about Libya, which appears to be descending into civil war.
NATO defense ministers began a two-day meeting in Brussels, and the alliance extended its coverage of Libya's coastal area by keeping an airborne warning and control plane on patrol 24 hours a day.
EU foreign ministers were also meeting, and EU heads of government have an emergency summit set for Friday. AP