Election of new Maronite Patriarch begins at Bkirki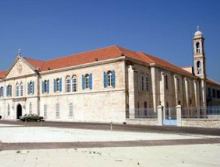 The guardians of the Maronite patriarchate, Farid Haikal al-Khazen and Amin Keserwan al-Khazen, closed the gates of the seat of the Maronite church in Bkirki at 6:20 pm on Wednesday marking the beginning of the process of electing a new Maronite Patriarch for Lebanon
National News Agency reported that the closed meeting between the Maronite Archbishops kicked off to elect a successor of Maronite Patriarch Nasrallah Boutros Sfeir.
A night prayer headed by Sfeir is underway at Bkirki with the participation of 38 bishops who will elect a new patriarch.
Sfeir, 90 had asked several months ago to be relieved of his post because of his age. Sfeir's resignation was accepted last month during a meeting with the pope on the sidelines of a visit to the Vatican to unveil a statue of the Maronite Church founder Saint Maroun on the outer wall of Saint Peter's Basilica.
According to local reports , the Christian Maronite bishops will gather on Wednesday to elect the new patriarch during a spiritual conclave which will be held at Bkirki . The spiritual conclave lasts 3 days and will be followed by deliberations . The name of the new patriarch will reportedly be announced 15 days later.
"I ask forgiveness from those who thought that I offended them in any way," the outgoing Patriarch said during a ceremony and mass in Bkirki last Saturday in his honor.