Aoun: Arms outside the state's authority is abnormal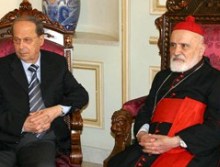 Change and Reform bloc leader MP Michel Aoun visited Bkirki and met Wednesday with outgoing Maronite Patriarch Nasrallah Boutros Sfeir.
Following his meeting Aoun said that "now is not the right time to renounce non-state weapons." In reference to Hezbollah arms
"Non-state weapons are not eternal, but now is not the appropriate time to abandon them," Aoun told reporters in Bkirki
Aoun , a key ally of Hezbollah added: "We know that the presence of arms outside the state's authority is abnormal, but abandoning it at this time is risky, however these arms will not exist forever."
This comes after Aoun told reporters yesterday: "We are proud of the Resistance's weapons,"
Aoun yesterday attacked March 14 for campaigning against Hezbollah arms saying "this harms coexistence and national causes that we are proud of."
Aoun said that "there is no misunderstanding" between him and the patriarch, but that they only "have different views in politics " and added : "We thank Sfeir for his long years of service and we are keen on supporting Bkirki."
Commenting on his previous criticism of Sfeir he said: "We always apologize to the Patriarch and all the people."
Sfeir, 90 had asked several months ago to be relieved of his post because of his age. Sfeir's resignation was accepted last month during a meeting with the pope on the sidelines of a visit to the Vatican to unveil a statue of the Maronite Church founder Saint Maroun on the outer wall of Saint Peter's Basilica.
Aoun's visit took place just before the Christian Maronite bishops gathered at Bkirki on Wednesday to elect the new patriarch during a spiritual conclave . The spiritual conclave lasts 3 days and will be followed by deliberations . The name of the new patriarch will reportedly be announced 15 days later.
"I ask forgiveness from those who thought that I offended them in any way," the outgoing Patriarch said during a ceremony and mass in Bkirki last Saturday in his honor.