March 8 : Saudi silence on Hariri stance a "disaster"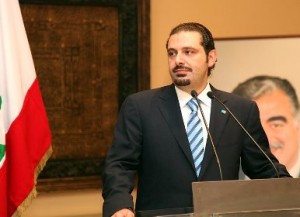 As-Safir newspaper reported on Monday that an unnamed March 8 coalition source said Saudi Arabia's silence regarding outgoing Prime Minister Saad Hariri's stance on the Resistance's arms is a "disaster," as Hariri's stance involves possible tensions and repercussions.
This comes after Hariri vowed last week to fight the use of non-state weapons in Lebanon in a "peaceful and democratic way." This is in reference to Hezbollah arms .
Hariri said in remarks published on Friday that it is no longer possible to protect the Resistance when its "weapons have turned to point at the Lebanese."
"Every Lebanese is wondering if it is possible to live in Lebanon in the shadow of a group (Hezbollah) that keeps carrying weapons and using them in its interest when the need calls," he told An-Nahar newspaper.
The Iranian- and Syrian-backed Hezbollah brought down PM Saad Hariri's government on January 12 over the Special Tribunal for Lebanon's imminent indictment which is widely expected to implicate Hezbollah members in the assassination of former PM Rafik Hariri in 2005 .
Mikati, who was backed by Hezbollah and its March 8 allies including MP Walid Jumblatt and Mohammad Safadi, was appointed on January 25 by president Michel Suleiman as PM-designate to form and head the next cabinet , giving Hezbollah and its allies increased leverage in the country and provoking widespread protest.
Jumblatt and his PSP parliament members reportedly switched allegiance to Hezbollah's PM candidate, following threats by Hezbollah.
Jumblatt, Mikati and Safadi were all elected on March 14 electoral tickets during the 2009 parliamentary elections
Hariri who returned to Beirut on Monday from an official visit to Saudi Arabia met several key Saudi officials including King Abdullah and the Crown prince
According to local reports Saudi Arabia is still keen on its relation with Hariri and it does not approve the manner in which Nagib Mikati was designated as PM to form the new cabinet.
In another sign of Saudi displeasure over Mikati's appointment , Al-Jumhuriya newspaper reported on Monday that Mikati called Saudi Information Minister Abdul Aziz Khoja and consulted with him over the possibility of scheduling a visit to Saudi Arabia to pay respect to Saudi King Abdullah bin Abdel Aziz , but Khoja reportedly told him that it is preferred to postpone this visit for the time being.
The Saudi king returned to Saudi Arabia in February after his three-month trip for back surgery.