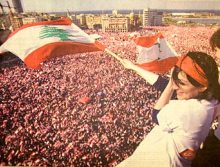 Caretaker Prime Minister Saad Hariri said on Monday that the people who will participate in March 14's rally will carry the Lebanese flag not arms
March 14 marks the 6th anniversary of the Cedar revolution when over 1 million Lebanese gathered in down Beirut to protest against the murder of the the late PM Rafik Hariri and called on Syrian troops to leave Lebanon. The Syrian troops withdrew in April 2005
March 14 coalition was named after the anniversary of the Cedar Revolution
Hariri said that the ceremony will take place on Sunday March 13 ( ( instead of March 14)) because "we are not disruptive people, it is not in the people's or country's interests [to disrupt a working day]," according to a statement released by Hariri's office.
"March 14, 2005 was the day that brought the Special Tribunal for Lebanon that aims to find the truth," Hariri said.
Hariri urged all March 14 supporters to participate in the rally this Sunday "to reaffirm their commitment to the principles of the Cedar Revolution"
The Iranian- and Syrian-backed Hezbollah brought down PM Saad Hariri's government on January 12 over the Special Tribunal for Lebanon's imminent indictment which is widely expected to implicate Hezbollah members in the assassination of former PM Rafik Hariri in 2005 .
Nagib Mikati, who was backed by Hezbollah and its March 8 allies including MP Walid Jumblatt and Mohammad Safadi, was appointed on January 25 by president Michel Suleiman as PM-designate to form and head the next cabinet , giving Hezbollah and its allies increased leverage in the country and provoking widespread protest.
Jumblatt and his PSP parliament members reportedly switched allegiance to Hezbollah's PM candidate, following threats by Hezbollah.
Jumblatt, Mikati and Safadi were all elected on March 14 electoral tickets during the 2009 parliamentary elections
Jumblatt told al-Anbaa newspaper on Monday: "The party (PSP) will not take part in the March 13 rally because it knows that the people are responsible enough to refuse to participate in an occasion where speeches will be aimed at inciting strife, hatred, and sectarianism."